Friday Night Fakeaway Kebab in a Slow Cooker
|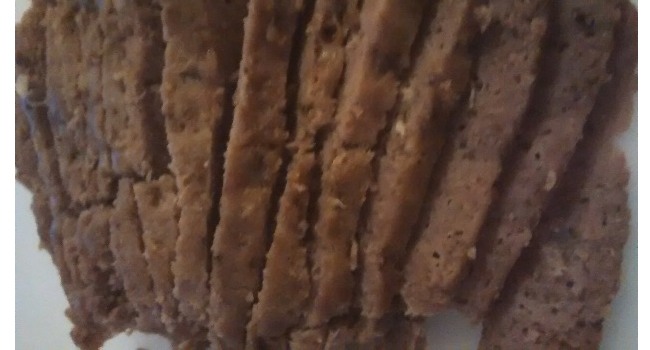 You can make your own kebab meat that's baked in the oven, but an interesting twist is that you can make the meat for the kebab in a slow cooker and leave it cooking while you're out on a Friday night. No more hunting for a kebab shop on the way home, or wishing you were nearer to one.
With this slow cooker fake kebab recipe you can come home and have your kebab ready to serve. And, as you're not sure how long you'll be out, or what time you'll be home, the slow cooker is safe and keeps it warm until you do roll in!
The recipe I use is one by Kenny McGovern, who wrote the The Takeaway Secret
.  Kenny's book was the top of Amazon's book lists when it was first published and everybody raves about it. I do a few of my own adjustments for personal taste, but the basic kebab recipe is spot on for 95% of tastes. Now, you also don't have to get it spot on if you're an ingredient or two short. So don't get too hung up on individual ingredients, just know that the full list is your ultimate goal when you get round to remembering to buy them.
But – and this is the beauty of it – the kebab recipe is baked in the oven, but you can also use a slow cooker to 'bake' it. When you use a slow cooker it firms up and crisps on the outside, and keeps moist in the middle.
Kebab Ingredients:
What you'll need to make this simple fakeaway kebab is:
lamb mince,
plain flour (all purpose flour),
oregano,
dried Italian herbs,
garlic powder,
onion powder,
cayenne,
salt and black pepper.
For the flour and the herbs you don't use a lot. There are variations of this recipe around that omit the flour entirely, or use regular dried herbs instead of the Italian dried herbs.
Method:
All you do is:
mix the lamb mince with the herbs and spices, then squash it down into a "loaf" shape and chuck it into the slow cooker.
Some people put the kebab directly on the base, others will make balls of foil and sit the donner kebab meat on top of those, so the liquid created during cooking is clear of the kebab meatloaf. What I tend to do is to just halve a couple of onions and put the onions on the base and put the kebab meatloaf on top of that – that makes me some nice baked onions too.
So, here's Kenny's recipe. This recipe will make as much kebab meat as you'd usually find in 3-4 shop bought kebabs, for less cost than one kebab usually costs you! The thinner you slice it, the further it goes, so it could even stretch to 6+ kebabs if you slice it right. And, I hear you asking "can you freeze kebab meat?" – yes you can freeze the kebab meat if you really can't eat it all in one sitting! Slice it up, divide it into portions, let it cool down, wrap the slices of kebab in foil and throw them straight into the freezer, already portioned up for next time. To reheat, 10-12 minutes in the oven at 190ºC, 375ºF, Gas mark 5 should do it – or remove the meat from the foil and microwave in a microwave container for 2 minutes.
Kebab Recipe in a Slow Cooker
Ingredients:
500 grams lamb mince, as lean as possible, e.g. 20% fat
1 teaspoon each of: plain/all purpose flour, dried oregano, salt.
½ teaspoon each of: dried Italian herbs/mixed herbs, garlic powder, onion powder, black pepper
Method:
Mix all the slow cooker fake kebab recipe ingredients together
Form your kebab into a meatloaf shape
Place in the slow cooker, on the bottom, or on foil balls, or on onions
Cook on low for 5-6 hours.
Turn off the slow cooker, remove the lid and leave the meat for 10 minutes to firm up a little.  I use two spatulas to remove it from the slow cooker, although it's usually firm enough to just reach in with your hand.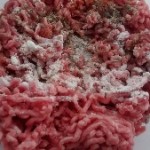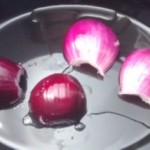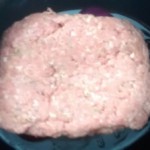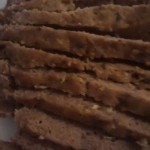 If you make up your mince mix the night before, then you can grab it out of the fridge when you come in from work and put it straight into the slow cooker before you dash off out to the pub!
Slicing Kebab Meat
In a kebab shop they will usually shave it very thin – you can achieve that if you use a slicing gadget such as a mandoline – I prefer to have chunks of meat, so I do slice mine very thickly using a regular knife (see photo).
To Serve:
You can stuff the kebab meat into a pitta bread, or serve it with a portion of chips, or even in a baguette. I splash chilli sauce on it too – neat. Just do what you want, this is your Friday night treat and there are no rules.
Make it Your Own Fakeaway Kebab!
If you want to make it your own, and make it hotter, you can always add very finely squeezed/chopped garlic and fresh chillies, if you like it that way.  There are no rules, except to ENJOY it!
Packed Lunch for Work
The kebab meat makes a great packed lunch, if you have a microwave and toaster at work. Simply toast a pitta bread and then fill it with hot/microwaved kebab meat. Or, if you've only got a microwave at work, then toast and slice open your pitta at home, then microwave the kebab meat for 2 minutes and microwave the pitta bread for 20-30 seconds to warm it through if you like your pitta bread warmed.
Q&A
Q: Should you wrap the kebab meat in foil in the Slow cooker?
A: This is a matter of personal taste/preference. I didn't wrap it in foil this time as I wanted a "crust" to form.  If in doubt, then you can always wrap half in foil and half not, then compare the results to see which you prefer.  The kebab meat can be cooked with or without foil round it though, either is OK/safe, it's just about your preference.