Foodies would ask why anybody would want to buy packet crumble mix, but as a food cheat it's really difficult to beat.  Making a crumble topping is the easiest thing in the world, you simply weigh out the flour and the butter, then use your fingertips to combine them until they're little crumbles of flour/fat.  After that you pour the crumble mix over your base and bake.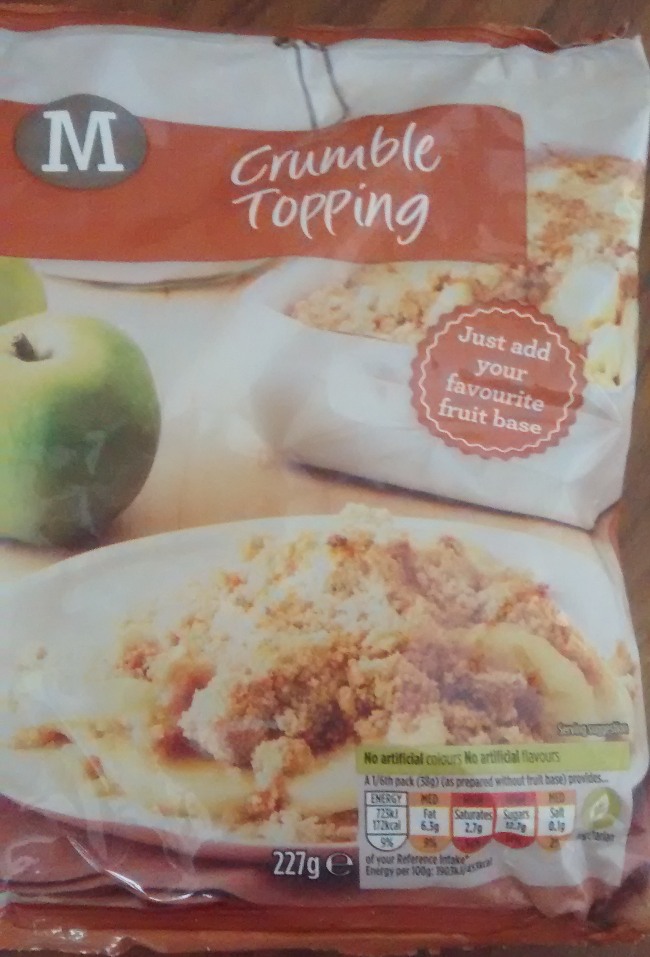 If you're making a sweet crumble topping, then add in a teaspoon or two of sugar and then sprinkle sugar over the top of the crumble topping before you put it into the oven, the additional sugar's not only sweet, but helps the crumble to brown.
Growing up we had a huge garden and mum always had some rhubarb plants on the go, so making a rhubarb crumble was pretty common – served with hot custard!
But, that's all very well, but in the true style of a food cheats method, then there's absolutely nothing wrong with using a packet crumble mix.  It means you can pour out exactly how much you need without making a mess or having too much (or too little!).  Once opened you can reseal the pack and toss it back into the cupboard – it keeps months/years!  You can make individual crumbles, or one large one.
Crumble mix is a handy cupboard item for those living alone, or the elderly or ill. Lazy, ill, old, or caught on the hop, having a packet in the cupboard means you can produce a great crumble on a whim in double-quick time!
Foraging!
If you've ever been out foraging, or found yourself buying a punnet of random fruit just as the market was closing, you might also find you get home and all your good intentions go out of the window.  Having a packet of crumble mix in the cupboard makes this a no brainer!
Simple Rhubarb Crumble Recipe:
To make a quick rhubarb crumble, you can even used tinned rhubarb; tinned rhubarb makes sense as it's something you can keep indefinitely in the cupboard and it's about half the price of fresh rhubarb.
Simply place rhubarb in an ovenproof dish (a wide/shallow dish is best) – be careful if there's a lot of liquid, you don't want much liquid in there else it'll just bubble up and spoil the crumble top.  There's no need to add any extra sugar as the tins have already had water/sugar added to cook the contents.
Open the crumble mix packet and pour it on the top – starting with the outsides and working inwards is best.  Don't skimp, but don't make it too thick either.  Make your crumble topping about the thickness of a jaffa cake 🙂
Bake on the middle shelf of a regular oven at about 180°C for about 25-30 minutes.  You'll see the top browning, so just take it out when it looks nice to you!  I'm not keen on a dark brown (aka burnt) top!
Probably best served with custard!  I use instant custard.  One tin of rhubarb + half a packet of crumble topping + half a packet of instant custard = comfort food at its finest!
If you only want to use half the tin, then remove the rest of the rhubarb from the tin and store it in the fridge in a lidded pot for up to 2-3 days.
Yes it's nice to use fresh rhubarb and yes it might suit your mood to make a crumble mix …. but don't dismiss a packet of crumble mix as a bad thing!  I've always got one in my cupboard for those lazy meals!
Easy Variations Using a Packet Crumble Mix:
You can use a packet crumble mix as the basis for your own twist on a crumble topping, some ideas are:
Add some grated cheese to make a cheesy crumble topping, for savoury dishes
Add some dried herbs to make an easy herby crumble topping, for meat stews and casseroles
Add some oats to give your crumble topping a little extra crunch!
Make a Microwave Crumble!
Did you know you can quickly whip up a microwave crumble – one that serves one person or a whole family if you want it bigger!
Find out how here: Microwave Crumble – use any fruit.  If you want to make a microwave rhubarb crumble then the rhubarb needs a little pre-cooking in the microwave to soften it, or use tinned rhubarb (shh, I won't tell).
Image © Foodcheats