Lidl Lighthouse Bay Breaded Haddock Fillets, 2-pack, Review
|
I bought a pack of two Lighthouse Bay Breaded Haddock Fillets at Lidl when they were on their Special Offer weekend.  I've never bought fish fillets in breadcrumbs before and it wasn't the product itself that pulled me in, nor the fact they were a reduced price that weekend… no, it was the flash of red as I spotted these packs were "30% off" as they needed to be used by that day!  So, for some unknown reason, I grabbed myself not only a pack of the Haddock Fillets, but a pack of the Cod Fillets too.
With a use by date of that day – and not wishing to cook them that day – I froze them.  So, the first question that needed answering was: Can you freeze the Lidl Lighthouse Bay Breaded Haddock Fillets?  The short answer is "Yes".
Freezing:
How do you freeze breaded fish fillets then? I hear you asking next… well, in my usual gung-ho style of kitchen genius I simply tossed them, still in the packets, into the freezer.  Job done. However, this isn't really the best way to store food that's frozen and in packets.
Like a lot of products, the packets far exceeded the size of the product – and, as I've a tiny freezer, that meant I had to decant them at some point.  Once frozen I simply removed the fillets from the store packaging, retaining the instructions information, and wrapped the two fillets with the instructions (cut from the packaging) in a simple freezer bag.  
As I'm careful with things I didn't bother to secure the package, I'd used a bag that was plenty large enough, so just wrapping the bag round the fillets was good enough for now 🙂
Defrosting:
I defrosted one of the Haddock Fillets by placing it in a covered dish in the fridge.  I did this early in the morning and by mid afternoon it was defrosted.
Official Cooking Instructions:
The official cooking instructions on the pack said to bake in a pre-heated oven at 200°C for 20-22 minutes.
Of course, I never follow instructions, I adapt them so I can feed myself quicker!
Microwave Fast Track:
I like to cut down my cooking time, where possible, by using the microwave to bring some foods up to the right heat, using my oven just to crisp it up and brown it off.  With the haddock fillet defrosted I microwaved it (800 watt microwave) for 1 minute, then turned it over and microwaved it again for about 30 seconds.
Finish in the Mini Oven:
Once microwaved for 1½ minutes I transferred the haddock fillet to the mini oven and cooked it with the following settings:
180°C; Bottom shelf, on foil on the baking tray; 8 minutes, turn, 5 minutes.
I then served it with mashed potatoes and peas and a splash of ketchup.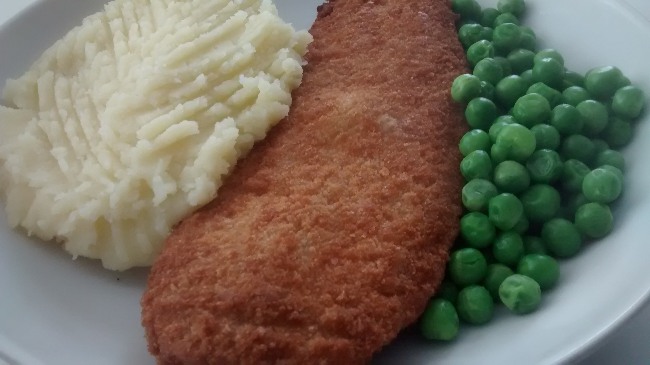 Review:
The portion size is positively belly-filling, it'd be easy to serve just half of one of these as a portion.  The colour is great.  The fish texture is really good, it's not watery at all.  These are tasty, I can't compare it to anything else as this is probably the first time I've been aware of eating haddock (there's only so much food you can eat/experience).  If there's one "fault" it is that the breadcrumb coating did feel it was a little dry, so it's probably best to serve with some form of sauce, however, it could be my fault as when I microwaved this haddock fillet to get it started that does draw a lot of the moisture out.  To prevent loss of moisture during microwaving it'd be sensible to microwave this wrapped in a sheet of kitchen paper or in a covered/lidded dish.
Would I Eat This Again?
Definitely.  I'm really enjoying this brand of breaded fish fillets.  I'd definitely eat them again – which is probably good as I've still got a second one to get through!
Food Cheats:
What food cheats did I use here then?
I microwaved the fillets for 1½ minutes at the start to cut down overall cooking time.
I used my mini oven, which is compact so requires no pre-heating, this saves overall cooking time.
I used instant mash instead of buying, peeling, steaming, mashing fresh mash 🙂
Menu Cost: 
This cost under £0.50 in total.