Chef Select Minced Steak & Onion Slices, Lidl. Review
|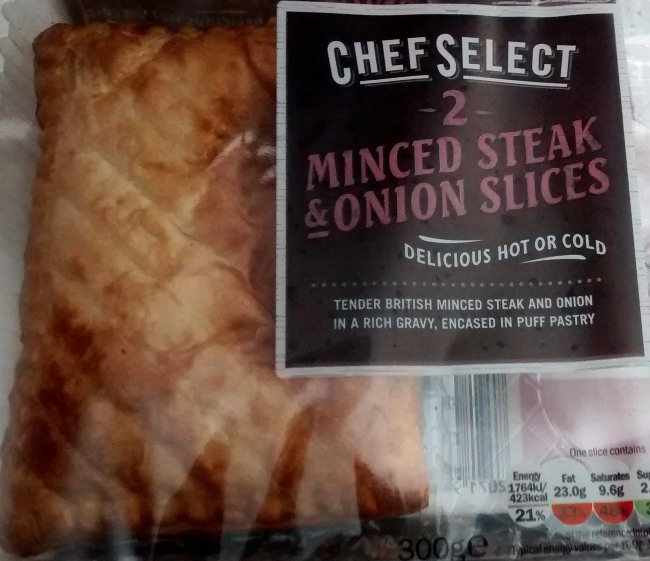 I bought a pack of two Chef Select Minced Steak & Onion Slices from Lidl – I'd actually fancied a sausage roll, or a pie, but for some reason I changed my mind when I got into the shop and randomly decided to try the minced steak and onion slices!  At 99p for a pack of two they seemed to be comparable in price – and the description of "Tender British minced steak and onion in a rich gravy, encased in puff pastry" sucked me in ….so I just bought them.
These are ready cooked and can be eaten cold – but I had intended to heat up the slices.  I had the first one that evening, served with instant mash and baked beans – but I really wasn't impressed at all.  There was a strange texture to the meat filling and the taste just wasn't there.  It was probably one of the worst slices I've eaten for many years!
Calories: At 423 calories, this is a very high amount for "just a slice", but I was in the mood for instant gratification and intended to rush straight home to cook and enjoy it.
Heating Instructions:
The heating instructions were to put the slices into a pre-heated oven, at 190C/170C fan/Gas Mark 5 and heat them for 15-20 minutes.  I used my mini oven and didn't preheat it.  I thought one of my Falcon pie dishes looked the right size container, so I used that to put the slice into the oven: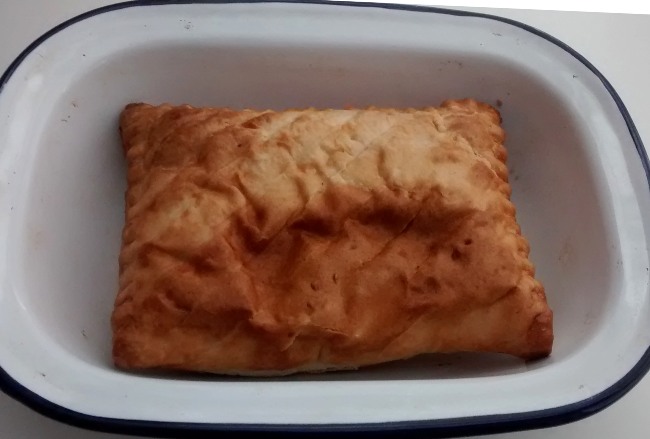 I wasn't overly keen on the look of the slice, to be honest – and, during cooking, it didn't improve.  This was described on the packet as puff pastry, but it was all a bit strange looking and certainly didn't puff up during cooking.  The slice contains just 22% British beef and 8% onion. Reading the ingredients list, it's not reading like a list of food ingredients that make you want to rush and eat it (I rarely read the labels, but I did so just to write this review).
Another night I repeated the meal, but this time I added gravy to it, hoping to smother what'd been a bad filling experience previously – unfortunately, even adding gravy didn't improve matters!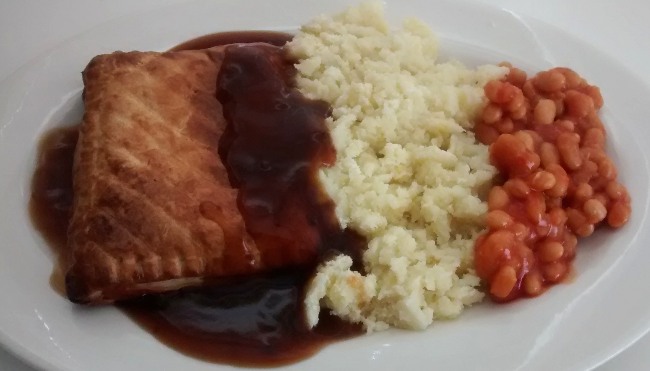 Would I Buy This Again? 
No.  I'd not bother.  If I could go back again I'd choose something different.  This product, for me, is to be avoided.  I didn't feel I'd "had a treat", which was the original intention, nor did I feel I'd "eaten a good meal".  Usually adding gravy makes most food passable …but even gravy failed this time.
Sorry to say …. never again.