You can mix up some quick and easy pakora bites from leftover vegetables and mashed potato, or by using frozen veg.
I found myself with some frozen veg to use up the other week – and some leftover mashed potatoes, so I made these quick and easy pakora bites.
Although I ate some immediately, I found that they tasted even better after they'd been kept in the fridge in an airtight box until the next day as it allowed the flavours to develop.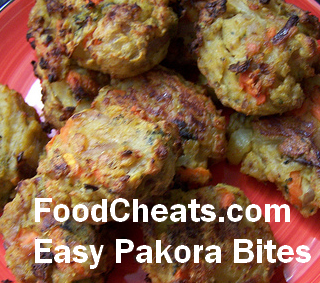 Ingredients:
3-4 medium potatoes, cooked and mashed.
1 onion, diced (I used a red onion, but any colour will do)
300 grams (10oz) cooked or frozen vegetables
2 tablespoons of curry powder, or garam masala – whatever you've got
1 beaten egg
oil for greasing the dish
Method:
Preheat the oven to 200 degrees C
Combine all the ingredients in a bowl and mix well together
Grease a baking tray with oil
Scoop out small balls of the veggie mix and place them onto your baking tray (you can flatten them if you want)
Brush, or spray, oil onto the top of the pakora bites
Bake in the middle of the oven until they're as dark as you like them (30-40 minutes).
Remove from the oven and allow to cool a little, to firm uo
I ate mine cold, but you can serve them as a side dish to a curry, or eat them as a hot snack!