Easy Microwave Sausage Meal
|
If I want to make an easy microwave sausage meal, then I can always use my cupboard stocks of dried items.  Yesterday I had some mushy peas that needed to be used up, so I decided to make an easy microwave sausage meal of sausages, Yorkshire puddings, stuffing, mashed potato, peas and gravy.  Remember, this isn't a gourmet contest, it's food on a plate, fast 🙂
I have a zero waste policy – so everything has to be eaten.  I did think of making some pea/potato cakes, but I just wanted the peas to be gone, not to end up in the freezer (which is already full!).
I had some cocktail sausages I'd frozen – I freeze these in foil wraps of five sausages, which is equivalent to one full-sized sausage.  I buy the cocktail sausages ready-cooked to make fast sausage baguettes and as part of my microwave breakfasts.  Some are simply nibbled as snacks as I pass the fridge, I'll admit!
In the cupboard I also had dried potato, some packet stuffing mix and instant gravy.  The mushy peas were in the fridge and the Yorkshire puddings were in the freezer.
Everything that goes into the freezer has to be eaten at some point and I do like my freezer to have a good turnaround, with items typically being in there no longer than three months.  Items that loiter in the freezer just become more unappealing the longer they're in there, so I like to get them out and get them eaten!
To make this meal I lined up some jugs and pots: 
Jug containing instant mash with a knob of butter
Jug containing some packet stuffing mix with a knob of butter
Dish containing the mushy peas to be reheated
Small pot containing the frozen sausages
Small pot with a teaspoon of instant gravy granules
The two Yorkshire puddings don't need their own dish
To prepare: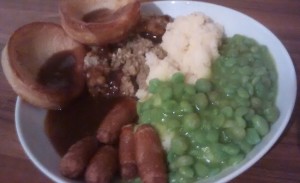 Boil the kettle with enough water to make up the stuffing mix, the instant potato and the gravy.
Mix up the stuffing and stand it to one side for 5 minutes or so for the mix to plump up.
Place the jug of stuffing, the pot of sausages and the (covered) mushy peas dish in the microwave and microwave these for 2 minutes.  Turn/stir the stuffing and the peas and give the sausages a little shake and a prick with a knife (they'll have defrosted by now and if you don't prick them they "might" explode).
Return the peas, stuffing and sausages back to the microwave for another 1 minute.
Meanwhile, make up the instant potato mix, let it stand for a minute or so and then place this in your serving dish.
Remove the stuffing, sausages and peas from the microwave and add them to your serving dish.
Place the Yorkshire puddings on top and microwave the whole dish of food for about 30 seconds or so (to warm the Yorkshires through).  Any longer and the Yorkshire puddings will tend to get a little chewy.
Make up the instant gravy, remove the serving dish from the microwave and pour the gravy where you like it best!
Serve.  That's it.
I'll quite often have this type of easy microwave meal once a week, often on a Sunday in place of a proper Sunday roast.  It's much more flexible – and tasty – then trying to buy a microwave dinner for one.  I get to choose what's on the plate and in what quantities!  So it's tastier, more filling and more satisfying than a boxed frozen joyless meal for one.
The alternative would've been to get out my mini oven, make/bake the stuffing, add the sausages and Yorkshire puddings.  Then peel/cook/mash potatoes.  That'd have taken longer.  The end result wouldn't have been so significantly better that the effort was worthwhile "for one".  Cooking for one, when you're not actually enthused, needs to be made simpler and faster.  It's a balance between time/effort and end result.
There's also little washing up!
Menu Cost 70p:
I'd estimate this meal cost about £0.70.