Aldi Scottish Steak, Cracked Black Pepper & Claret Pie Review
|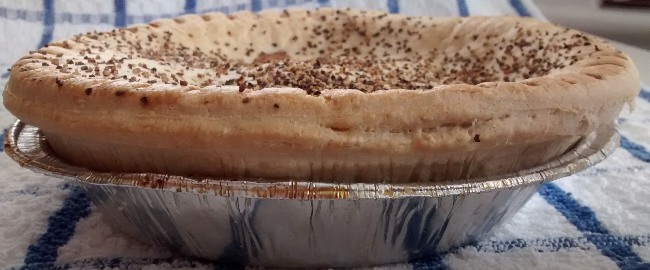 The Aldi Scottish Steak, Cracked Black Pepper & Claret pie is a large, family sized pie and it found itself coming home with me!  It's a fairly new product in the Specially Selected range.   I prefer to buy family sized pies and portion them up rather than individual pies as I feel you get a better pastry to filling ratio, so they represent "better value" to me. I love pastry, but often find that individual pies simply lack enough filling, the pastry to filling ratio is too high – so committing to buying a family sized pie and portioning it up into 3-4 pieces (greed depending) is what I prefer to do.
I'll typically start by thinking "I can eat all four quarters of that in the next four days", but often lose the will to continue after 2-3 days, so will freeze the leftover portions.
The pack describes this pie as "A butter enriched shortcrust pastry base filled with marinated Scottish beef with added water in claret red wine gravy, topped with butter enriched shortcrust pastry. "  This is from the Aldi Specially Selected range.
The pack says it contains 3 servings, but I usually cut a pie this size into quarters, which is plenty large enough.
The Perfect Dish:
Ah, that elusive "perfect dish"! For reheating portions of pie I like to use my metal pie tins, they are just the right size, this is the Falcon 16cm pie dish that 1/4 of the steak & claret pie fits into. I reheated this steak and claret pie in my mini oven and it took just 20 minutes without pre-heating.  I am of the opinion that reheating a pie in these small tins is beneficial to keeping the pastry nice and crisp as tins heat up better/quicker than, say, an enamel tray.
The official heating Instructions are to remove the outer packaging and leave pie in the foil tray. Cook at 180°C electric/160°C fan/Gas Mark 4 from chilled for 35 minutes and from frozen for 50 minutes. Not suitable for microwave cooking.
Cooking just one quarter will significantly reduce the cooking time as the portion is smaller and the insides are exposed.  I try to angle the cut sides upwards a little, to minimise the chances of the gravy and filling running out.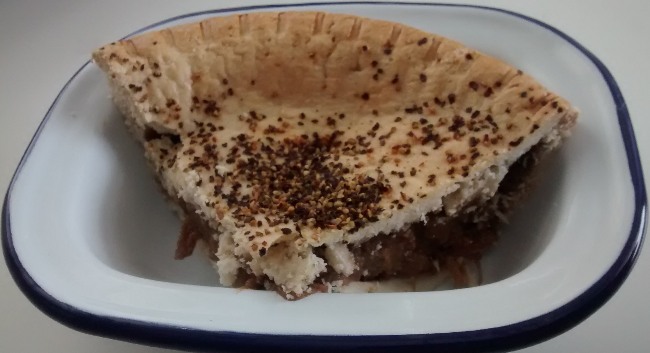 Leftover Pie Portions & Freezing:
The plan is to eat as many portions of this pie as possible, then freeze the remainder.  I slice the whole pie up at the start, then separate the pieces – this means that if I do want to freeze the leftover portions in a hurry then I can just grab the box and put it in the freezer as I've already "sorted it out".  If I do end up eating all four pieces then it's easy for me to grab the next one from the box to reheat.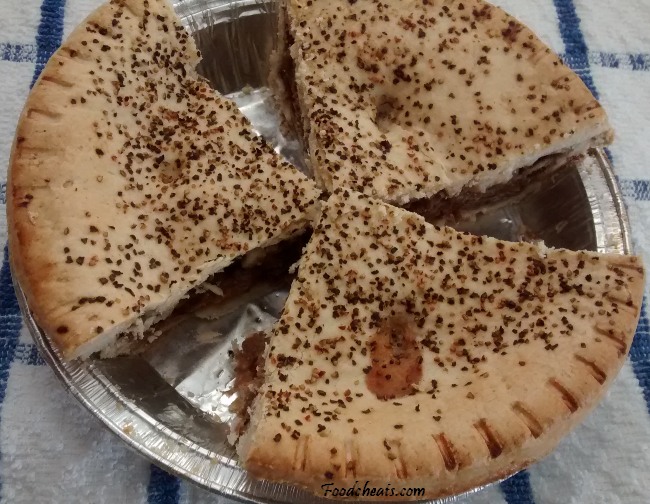 The question, as ever, is what to serve it with – and, as is usual in my house, I don't "choose" what I serve with food, I am dictated to by what needs to be used up and what I've got!  Today this turned out to be a food cheats solution of using mixed frozen vegetables, instant mash and gravy granules!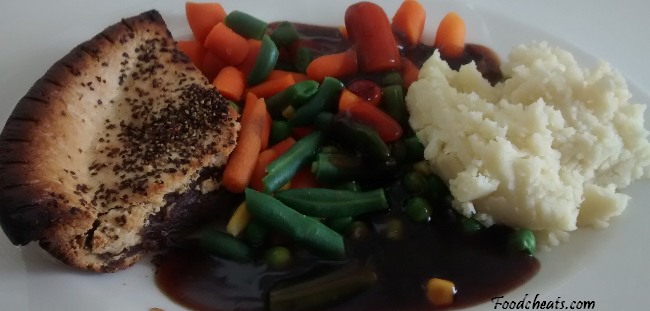 Second Portion of Pie: 
The second portion of pie I served similarly, but with the addition of some leftover roast potatoes.  Call me greedy … but this was a better plateful 🙂  I'm really fed up of the frozen mixed veg at the moment though!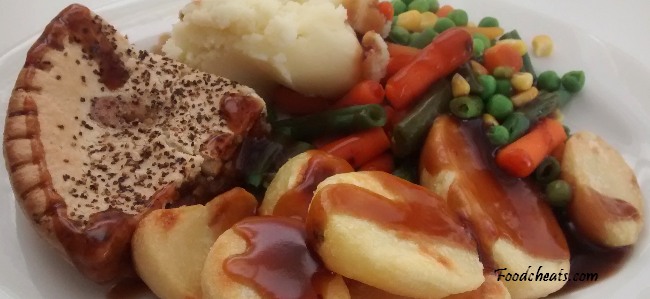 Pie Review:
This is a nice deep and meaty pie, with a great gravy. I didn't find the flavour significantly different to many other good, deep, pies, although I could detect the taste of claret and the cracked black pepper on the top, the tastes were subtle.  It was very pleasant to eat, "money well spent" as they say.
The pastry cooked up nicely, giving a good crisp crust and it was very satisfying.
I would certainly buy one again in the future.  This meal didn't make it onto my "Best Meals of the Year" because of what I served it with. While the mixed veg and instant mash were "food" they weren't sufficiently joyous to make the list 🙂  The PIE alone makes the "Best Meals" list, but it had a head start as it was a pie.