Cheesy Chip Butty Using Oven Chips
|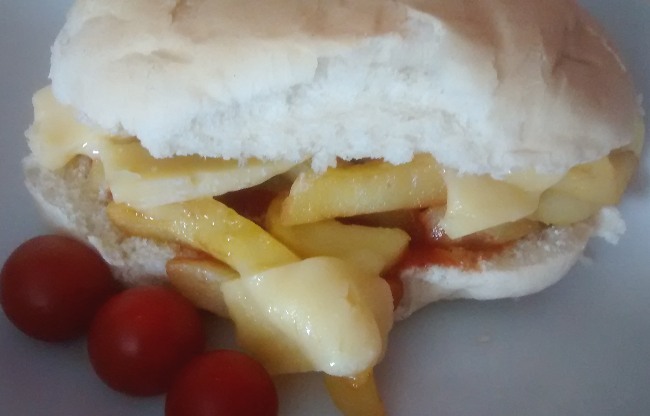 A chip butty is a small portion of chips inside a bread roll – they're a common quick snack for many in the UK. A cheesy chip butty takes it to a new level of enjoyment!
I had a bread roll to use up and so I thought I'd make this quick chip butty – using oven chips.  Although the intended cooking method of oven chips is to put them in the oven, most often I'll actually microwave oven chips instead.
This time I had a little bit of cheddar cheese I thought I'd use up, so my usual quick chip butty became a cheesy chip butty.  And, with a punnet of cherry tomatoes kicking around, I thought I'd add in one of my "five a day" by tossing a few of those into my bowl too.
This cheesy chip butty took under 15 minutes from thinking of it, to eating it – cooking the chips taking most of that time.
Ingredients:
1 large soft bread roll
~150 grams oven chips (choose quantity by eye)
~25 grams cheddar cheese
A splash of tomato ketchup or chilli chutney
How to Make:
Slice the bread roll open and spread some tomato ketchup, or chilli chutney, on the insides.
Cook the chips, adding the cheese towards the end so it melts
Eat.
Menu Cost: 
One bread roll can cost a varying amount, this bread roll is one of Aldi's so cost about £0.20.  The chips are Lidl's oven chips, probably £0.05 worth (yes 5p worth).  The small amount of cheese was pennies too, as were the tomatoes (which I'd have bought as part of a Lidl Special Price item).  In total, this quick, easy, tasty and filling snack meal probably cost £0.35 – with the bread roll being the expensive part.  To make this cheaper, use two slices of bread instead of a bread roll!