A few years ago my sister bought me a teddy pizza cutter for Christmas.  It's quite a cute little thing as it's in the shape of a teddy.  Now, I'm a fully grown adult, but my regular pizza cutter went out of the window once I had sight of the teddy pizza cutter as he's just so cute.
It's got a label on it saying Fun & Fantasy, but I've no idea where she bought it from, exc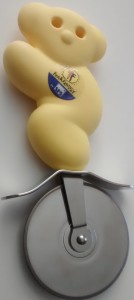 ept the box says SKS Design, 59844 Sundern, Germany.  I know she picked it up from a UK shop though, certainly not on a trip to Germany!
Presents are good – cute and quirky kitchen gadgets are even better!
Of course, today I've got just one small slice of pizza to cut, so teddy won't be used.  But I did get him out of the drawer and spent a minute or so amusing myself with how cute he looks!
Novelty pizza cutters make a great stocking filler at Xmas, or as part of a food hamper gift.  They're quite cheap and cheery!