Lock & Lock Flour Box, 1.8 Litres or 2.6 Litres?
|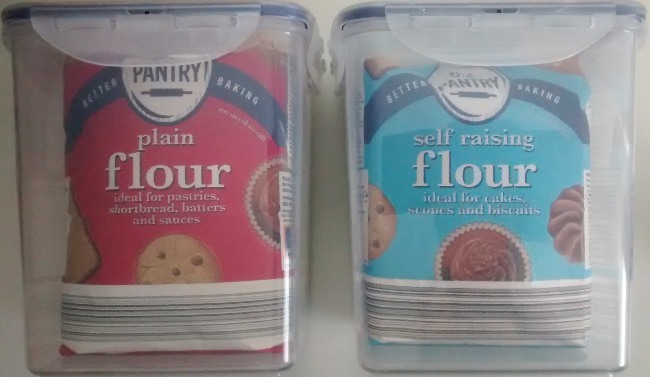 I'd bought two 1.5Kg bags of flour and I wanted to buy a Lock & Lock Flour Box, to use as a flour storage container – which you'd think would be easy to do!  In the past I've bought small 500 gram bags of flour, but as I've been using more flour lately I decided to buy 1.5Kg bags of flour because it was the same price, but then I needed a flour storage container box from Lock & Lock.  I use a lot of similar, cheaper, boxes for storing food securely – but I specifically wanted the Lock & Lock boxes for flour because some of the cheaper brands aren't as good and, while they are fine for other dried foods, I wanted to make sure I got the best food storage containers I could.
How Do You Use Flour? How Often?
The problem with storing flour is that when you analyse it nobody has the same needs – which flour storage container is the best one for you will depend on your needs!  My needs are that I might open a full and new 1.5Kg bag of flour and only use 1 tablespoon from the top, then not use any for another month!  Cooking for one means that usage isn't regular, it's sporadic – sometimes I'll use a lot of flour and sometimes it's months before I'll want to use it again – so I wanted good, strong, reliable food storage boxes so I knew that the flour was the best it could be even if I'd not dipped into the bag for six months!  My peak months for using flour tend to be September to December, then March to April.
I probably expect to use two 1.5Kg bags of flour in 1-3 years, sometimes not even that much!  It really is variable.  I simply want to buy flour and then store it securely in the cupboards, free of damp and other issues until the next time I want to use it!  If you're regularly using flour then you might have different needs, so think about how much flour you're using and how often.  If I were using 3Kg of flour a month, or a quarter I'd look for larger containers.  I simply really wanted "sleeves" for the flour bags.
Absolutely Airtight
The Lock & Lock boxes are "the best" because they really are absolutely airtight – they are also microwave safe and freezer safe.  So they are super useful and reliable. It's worth spending a few pennies more for something that is genuinely a "better product" to meet a need.
I already had a smaller Lock & Lock box, so tried that first – but it wasn't large enough.  So I started to measure the flour bags and try to compare the Lock & Lock box sizes, shapes etc – and ended up thoroughly frustrated and confused.
I measured my bags of flour, which are from Aldi, so I knew what size I was after – these bags I measured at 19cm high, 13cm wide and 3cm deep.  It's entirely possible that other brands come out at larger sizes, especially if you're buying direct from a mill …. but I'm not and those were the size of my flour bags!
1.8 Litres & 2.6 Litres
I narrowed it down to two sizes of Lock & Lock boxes that I thought would work.  Neither of these sizes will take a whole unopened bag.  I did wish to keep the flour in the bag inside the box, which is just a personal preference, so this restricted me.  The 2.6 Litre Lock & Lock box would hold the contents of a whole 1.5Kg bag of flour if I took it out of the bag.
In the end I bought one 1.8 Litre Lock & Lock box and two 2.6 Litre Lock & Lock boxes – because when it comes down to it you have to just make a decision and go with it – I figured the only way to really know was to buy both sizes and to then test it with the bags of flour I had.  I had already opened both bags by the time the Lock & Lock boxes arrived though….
So Which Was the Perfect Size of Lock & Lock Box for a Whole Bag of Flour?
I found that the 1.8 Litre Lock & Lock boxes will hold a bag of flour nicely – a "perfect fit" except the 2-3cm at the top of the bag!  But, once the bag's been opened and the top few cms have been used they would be a perfect fit.  This does mean that a new bag has to sit, opened, until I've used enough of it for it to fit into the 1.8 Litre boxes, but I don't see that as an issue.
As for the 2.6 Litre Lock & Lock boxes, again, they were a little too short to take a whole bag, but, as I'd already used some of the flour from both my bags, they did fit.
In the end, I've put the flour into the two 2.6 Litre boxes, still in the flour bag, simply because "the two boxes match" – but I do plan to get another 1.8 Litre Lock & Lock box in the near future and then I'll use that size for flour bags.  I do like some things to match – and matching flour container types/sizes is one of those few things 🙂
Lock & Lock Box Sizes
For the record, I've measured the two Lock & Lock boxes I've bought – below are the physical dimensions.  The boxes taper slightly so contents stored in bags don't get "stuck".
1.8 litres: 18cm high, 8-9cm deep, 12½-13cm wide. 1.8L, 1.9 quarts, 60 ounces.
2.6 litres: 17cm high, 8-9cm deep, 13-14cm wide. 2.6 litres, 2.7 quarts, 88 ounces
With my unopened flour bag measuring 19cm high it's a very close fit, close enough! While there are larger Lock & Lock boxes available, my objective was to get "the closest fit" as my cupboards are tiny so couldn't afford the wasted space – so, for me, I think the 1.8 litre Lock & Lock box is my best option!
I just need a second one of those now!
Buying Lock & Lock Boxes
You can find these in some shops, such as Lakeland, or even The Range and Dunelm when in stock, alternatively, you can buy them from the Lock & Lock company in their Amazon UK store: Lock & Lock Flour Storage Container.