Storing a Whole Broccoli Head
|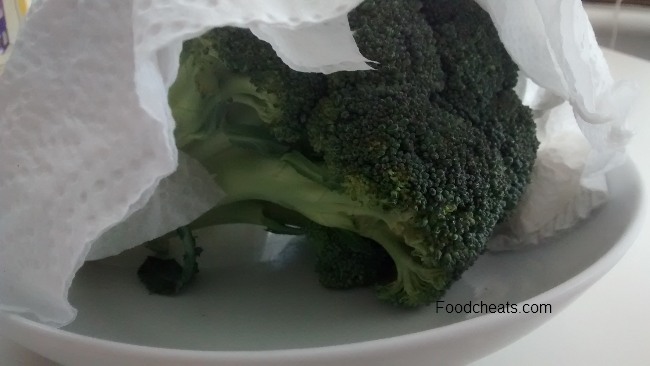 I've just bought a whole broccoli head as it's part of this week's special offers. Broccoli needs to be eaten quite quickly, but there are ways of storing a whole broccoli head that are straight forward to do.
You might be buying it loose, or wrapped in clingfilm, but if you simply put that on your worktop it'll very quickly lose its colour and look limp.   So, what's the easiest way of doing something quickly to make sure the broccoli lasts as long as possible?
Method: 
Grab a bowl.
Remove the broccoli from any packaging and run the whole broccoli head under the tap/ splash some water on it – you're just giving it a little coating of water, not drowning it!
Place the broccoli in the bowl.
Moisten 2-3 kitchen paper towels and lay them over the top of the broccoli.  It's best to get a good coverage, but there's no need to seal it right down – a little bit of air won't hurt it.
Store the bowl in the fridge.

After 1-2 days, if you've still not used the broccoli, just check the cover is still damp and add a splash of water if you need to.  It should last 3-4 days or more kept like this!  How long the broccoli lasts will depend on its quality and how long since it was originally picked, so it's difficult to guess how long it will last each time.
Using the Broccoli:
When I want to use the broccoli I simply snip off 1-2 florets and put the dish back in the fridge.
I cook the florets in the microwave: 2 Minute Microwave Broccoli, which takes just 2 minutes.  For larger quantities, especially if I want to serve the florets whole, I'll often just steam the broccoli in my microwave steamer for 8-10 minutes.
Broccoli Stalks: 
Don't waste the stalks – if you're just cooking the florets, then don't throw away the stalk.  Simply cut it into small pieces and toss into the freezer in a bag and you can add those into your next stew or casserole, or use the stalks to make a broccoli and cheese soup!