One Egg Crustless Quiche Sweetcorn & Red Pepper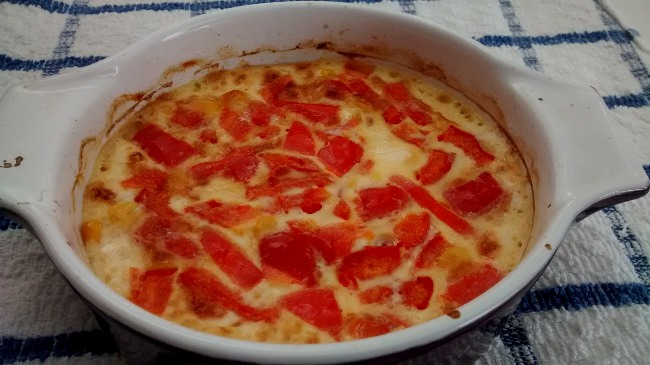 This is a quiche with milk – cooking for one I often make myself a one egg quiche and I use full fat milk most often as I don't have/buy cream as a rule. Today I made a one egg quiche to use up some sweetcorn and red pepper that were loitering in the freezer.  I make crustless quiches because I'm careful with calories; I love pastry, but limit myself with how much I eat! I'd use this same recipe to make a quiche with pastry.
This is a simple quiche with milk recipe, using the minimal ingredients.
Pin It: Simple Crustless Sweetcorn & Red Pepper Quiche
Sweetcorn & Red Pepper Crustless Quiche Recipe:
Ingredients: 
1 large egg, I used an Aldi large egg, which weighed 54 grams once cracked open.
Just under ¼ pint of full fat milk
120 grams of sweetcorn (you can use more, there's room for a whole can). Fresh, frozen or tinned.
¼ red pepper, cut into small pieces. Fresh, frozen or from a jar.
Seasoning: salt and pepper to taste
Method: 
This method of making a one egg quiche with milk is very flexible – and the filling quantities are variable.  I worked with what I had and the quiche could take more filling if you've got a bit more/less than I've used!  The sweetcorn I'd frozen tinned sweetcorn and wanted to use it up.  The red pepper was the last few pieces of that I'd bought/sliced and frozen the pepper over a month ago and I was fed up with it cluttering up the freezer.  My new regime has been to force myself to use up freezer food as soon as I can, rather than leaving food to languish in there out of sight, out of mind for months!
Pre-heat the oven to 190°C.  I used my mini oven/toaster oven to cook the quiche, with the rack on the bottom shelf and the top and bottom elements on for 5 minutes.
Crack the large egg into a measuring jug.  Break the yolk and give it a bit of a mix up, just stirring, not whisking.
Pour out the milk until it's showing a total of about 1/4 pint on the measuring jug scale.  Stir the egg and milk together, not whisking.
Grease/oil a small dish, today I used a dish that's round and 15cm/6″ wide.
Make sure your sweetcorn and red pepper are at room temperature (not frozen) and are drained and excess liquid has been removed – excess liquid in the quiche will water it down and cause it to fail.
Place the sweetcorn and red pepper in the dish, season with salt/pepper, pour the egg and milk mix over the top.
Place your dish in the oven and bake for 20 minutes, then turn down the temperature to 180°C and continue baking for a further 15 minutes.  It's done when you can slide a knife into the middle and it comes out clean.  You might prefer to cook it a little longer to brown further, that's a personal choice.  Once the knife comes out clean from the middle, it's cooked.
The quiche now needs time to rest, set and cool – I leave the quiche in the mini oven for 30 minutes without opening the door.  Remove the quiche from the oven and leave it out to cool.
You can eat this immediately (I usually do), or you can let it cool and put it in the fridge, covered in a lidded plastic box, covered in some foil, or using Stretch Covers for Food.
Note: If you do eat your quiche straight away, it's possible some of the filling might "fall out" as you portion it out, as it's not had time to set, but it's still edible!  It's also more difficult to get it out of the dish cleanly, so you'll need to use a spatula while it's warm.
Some days I eat just this quick one egg crustless quiche on its own (like today!), often straight from the dish, so there's the minimum of washing up.  Other days I'll make some quick chips to go with it.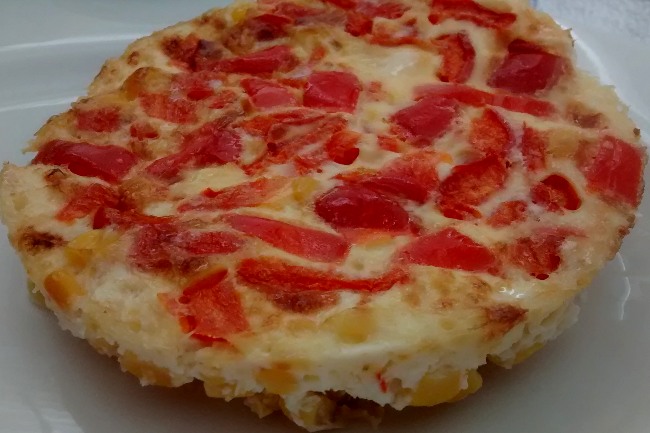 Variations: 
If you want a creamier quiche, use cream or evaporated milk instead, which is milk that is boiled down until its lost 40% of its water content.  I cook what I've got, I rarely shop for specific ingredients to make a recipe… milk is what I see when I open the fridge and so I think "ah, quiche".
You can put anything into the quiche that you've got, but if you're using wet/frozen ingredients then make sure you remove all the excess moisture else the quiche will be watery and fail.
You can do a nice "feature topping" if you wish, carefully arranging the pieces to look nicer – I just chuck it all in, job done 🙂
The depth of a quiche depends on the size/shape of your dish – a deeper quiche, or if you double up this recipe, would require a further 10-20 minutes of cooking time at a slightly lower temperature.
Menu Cost: 
This quiche is a very frugal meal, but costs are variable.  I buy milk in 1 pint bottles, which is more expensive than, say, the 4 litre bottles!  For me this has used about £0.10 of milk and £0.08 for the egg.  The peppers were bought when I spotted them cheap and probably cost £0.05 for the amount I used and the sweetcorn was just over half a tin of cheap tinned sweetcorn, so £0.20.  If you say it's cost about 40p that'd be about right!