Red Cabbage & Carrot Coleslaw
|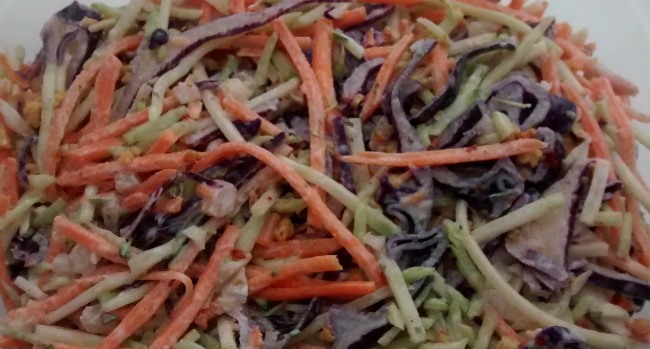 If you want a simple coleslaw recipe that adds a bit of colour to your plate, then using red cabbage instead of, or as well as, white cabbage can make it look a lot more 'exotic' and cheery.
To make this red cabbage and carrot coleslaw recipe all you need is a sharp knife, or a simple box grater, or a food processor – simply cut, shred or process the ingredients and you're nearly there!  You can use all red cabbage, or a mixture of red and white, it might simply depend what you've got in the vegetable rack!
Ingredients: 
¼ red cabbage, or 1/8 red cabbage and 1/8 white cabbage
1 large, or 2 medium, carrots
1 small white onion
1-2 tablespoons of mayonnaise (or salad cream)
Salt/pepper to season.
Method: 
Grate, chop, cut or shred the cabbage.
Top and tail the carrots (that means just snipping the pointy end off and slicing the fat end off) and grate or julienne those – you can peel them if you wish, or not.  Grating is quicker than julienne carrots, but it depends on the time you've got available!
Chop/grate or slice the onion as finely as you like.
Add the mayonnaise and any salt/pepper/seasonings and spoon it through the mix.
Store the coleslaw in a lidded container in the fridge, where it'll keep for 3-4 days.
Coleslaw Croutons: 
You can add in some tiny croutons to the mix if you like – simply cut the crusts from a slice of stale bread and toast it, then crush the toast until it's in tiny pieces.  You get better croutons if you leave the slice of bread out in the air for a few hours so it dries off before you toast it.
In the summer months I like to have a selection of boxes of mixed salads in the fridge that I can just go to and spoon out like a salad buffet, on demand!  It's also great for picnics or BBQs or as an attractive layer in a layered salad bowl.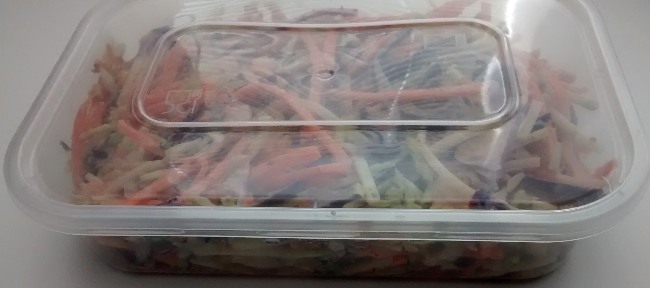 By putting the salad instantly into a takeaway box it's kept in a good condition – and they're stackable.  What I like about them is that I can easily see what I've got – and move them around without any spillage.   Nothing's forgotten, nothing is wasted!