Angel Delight, Castello Butterscotch Flavour
|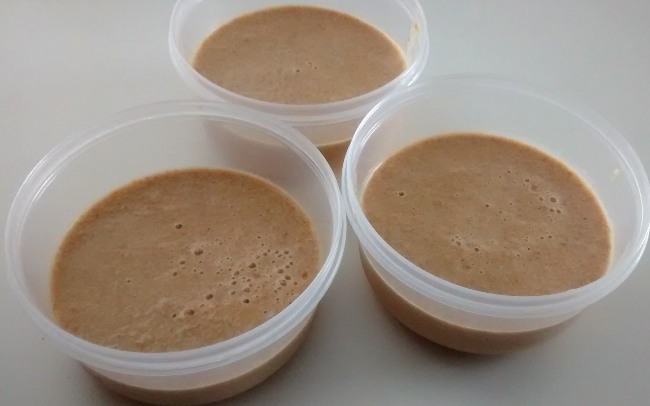 I've always loved Angel Delight, butterscotch is my favourite – and I'll quite happily buy the Angel Delight from supermarket own brand lines.  The Castello branded butterscotch flavour, called Heavenly Delight, is sold at Lidl!  These are great desserts to keep in the cupboard and they can be made up with milk, or even dried milk reconstituted into water.  I often also use Carnation Milk to make Angel Delight, which is what I did today.
I've got some tiny lidded pots, so will make up individual portions of Angel Delight and keep them in the fridge, to be consumed over the next 3-4 days.
Castello Heavenly Delight
Castello Heavenly Delight is sold at Lidl and is their version of the popular Angel Delight dessert.  It costs about 27p per 55 gram sachet: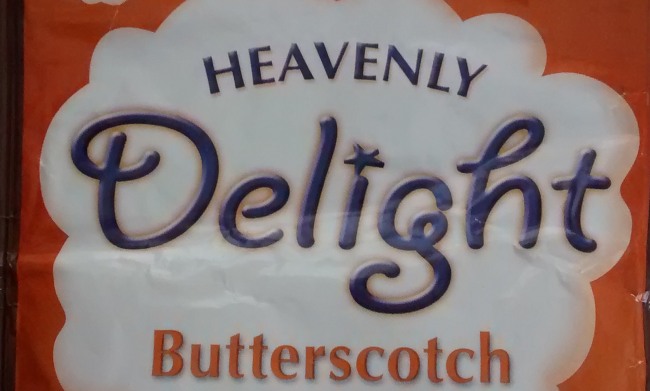 Angel Delight versus Heavenly Delight
Both packs state that a portion made up with milk is 92 calories, which makes me think they are probably the same product … but I'm not going to go and compare the two packets in detail.  It's pretty unimportant to me to do that 🙂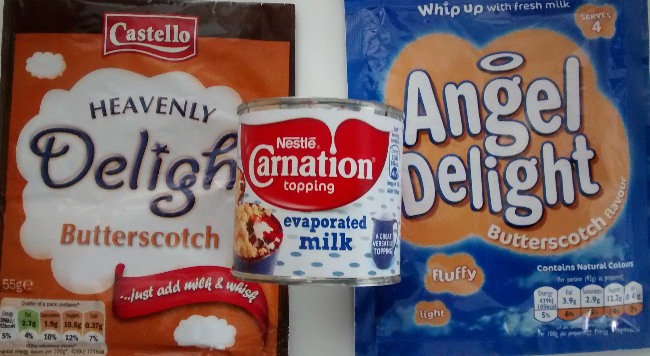 To make Angel Delight you simply mix it with milk and just whisk – usually regular cow's milk, but you can use any type of milk to make this.  Castello Butterscotch is mixed with about ½ a pint of milk (300ml) for a 55 gram packet – I usually do this with just a fork as it seems a lot of effort to have to wash up a whisk or a hand blender – but if you've got a whisk, especially an electric whisk, then you can really whip some extra air into the dessert!  For me though, I am happy enough with the results I get from using a fork as it's all about the taste to me!  Once whisked, pop it into the fridge until it's set, I like to wait at least 30 minutes to ensure it is fully set.
These days you can even buy branded pots of the original Angel Delight already made up, they're in the chiller section in supermarkets, but, if you can, it doesn't make sense to not just mix it up yourself at home!  At home you can simply mix a part of the packet with milk, you don't have to make the whole pack up – simply fold the top over and clip it and stick the packet back in the cupboard, it's just powder.
Calories in Castello Heavenly Delight:
One 55 gram pack mixed with 300ml of milk makes four portions allegedly – although I usually make just three from that much!  The pack doesn't tell you how many calories are in the packet itself, it just says that there are 92 calories in a serving (¼ pack) of Heavenly Delight if made up with semi-skimmed milk.  There are 35 calories in 75ml of semi-skimmed milk, so that means there must be 57 calories in ¼ pack of Heavenlyy Delight powder, or 228 calories for the whole pack.  Mixing the pack with full fat milk would be 51 calories for 75ml of milk.
For me, using full 300ml fat milk (204 calories) and the whole pack of powder (228 calories) to make just THREE pots, is 144 calories per pot.  Oh well …. sometimes you just have to go with the flow – and 144 calories for a sweet dessert isn't "all that bad" is it 🙂
Angel Delight Recipes: 
Apart from just making up Angel Delight, you can mix it up a bit and create other treats and desserts with it, here are some ideas:
Pour the mix into lolly moulds to make Angel Delight lollies
Mix Angel Delight with soft cream cheese to create sweet cheesecake style toppings
Make up two different packs of Angel Delight and create layered desserts
Top the Angel Delight with cream, or even Birds Dream Topping, then crumble a flake on the top or pop a piece of fruit.
Mix the sachet with fruit juices instead of milk – my favourite is to mix the chocolate Angel Delight with orange juice to create my own Choc Orange Pots.
Storing Angel Delight Once Made Up: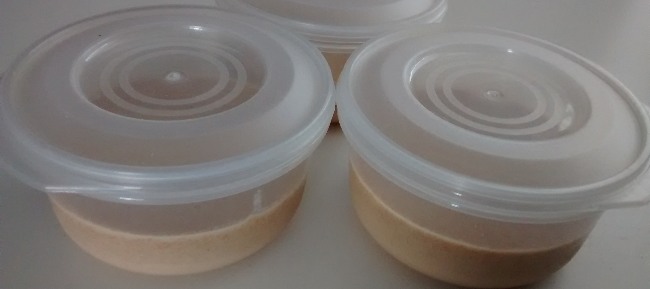 This dessert is best made and served within an hour – but if you keep it in a lidded pot in the fridge it'll be absolutely fine for 3-4 days.
Angel Delight has always been a cold dessert that I've had handy in the cupboard, because it has a long shelf life and is so tasty!