Mini Food Storage Boxes for Safe Food Storage
|
I've got a fridge filled with leak-proof lidded boxes of all sizes.  They're great as they keep the contents safe from cross-contamination, they're stackable, leak-proof and great to use as lunchboxes or picnic boxes.
Some of my favourite boxes though are the mini boxes – because I'm usually dealing with tiny quantities, I need to save tiny portions of leftovers.  the sort of pot that will hold, say, half a tin of beans – or even individual desserts.
In the summer I'll use the mini boxes to make up some fruit/jelly combinations to easily grab and go for the beach; once made up they're fine in the fridge for 3-4 days.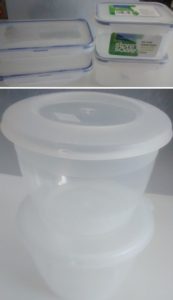 Making Jelly Pots at Home:
A typical jelly pot in a supermarket will contain 120 grams in the small pots and 180 grams in the taller pots.  So you'll need to find lidded food storage boxes with a capacity of around about the same volume in ml.  There are many places you can buy these – and if you remember and keep an eye out you'll eventually find the perfect size.  Or, for the "want it now" brigade, if you need it now, there's always ebay!  There are even leakproof twist-top pots.  150ml is a good size to have handy!  That gives you the option of half filling it for a small portion, or filling it to the brim with a generous portion.
You can buy jelly cubes, which you mix with boiling water, or jelly crystals in sachets, which can be easier to mix/use.  Simply place the fruit of your choice into the bottom of 4-6 small lidded pots, make up the jelly and pour it over.  Once cold, fit the lids and place them in the fridge to set!
For the more adventurous, a little sponge in the bottom and some instant custard added to the top and you've made a trifle!
DIY Jelly Pots will cost you £0.40-£0.70 each if you buy them in.  Make jelly pots "from scratch" in just 2-3 minutes (plus setting time) and they'll cost you a total of about £0.70 for the jelly crystals and about £0.50 for a tin of fruit – making about 6 pots, so closer to £0.20/pot.  A great frugal snack treat for the summer!
You can use fresh fruit or tinned fruit.  Use different flavoured jellies with different fruits, to discover exciting new combinations you can't buy in a ready made pot!
If you're taking them outside of the house, then just get the leak-proof pots; if you're eating them inside the house then any small lidded pot will suffice.