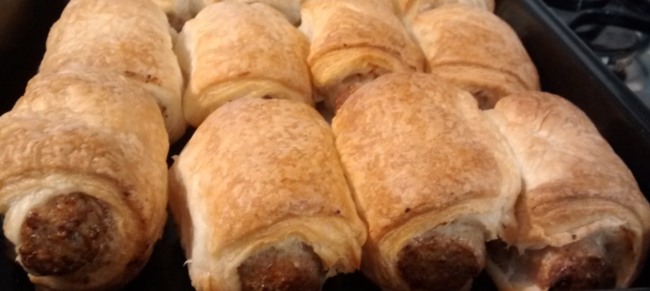 These are a food cheats easy sausage rolls – what's not to like about that idea? Hot and tasty,  any size you want them.  I make a batch of these every Christmas.  During the year I'm happy buying ready made sausage rolls to reheat, but at Christmas I just go the extra yard (not a whole mile you note!)
You can rush into a shop and grab some ready made sausage rolls, or even a bag of frozen sausage rolls – but they won't be as nice as these easy sausage rolls that are just 2 minutes' extra work!
If you buy a pack of 8 sausages and a box of ready rolled pastry – puff pastry is my favourite, but you can use any ready rolled pastry for this – then all you have to do is the following:
Lay out your pastry on the worktop.
Take a sharp knife and slit down the skin of each sausage, remove and discard the skins
Lay out the sausages on the pastry, leaving enough gap between them to be able to roll the pastry round each one – depending on the size of your sausages there's a slim chance you might have to roll the pastry so it's another 1″ longer, but usually they'll just fit.
Cut between the sausages and roll them up in the pastry.
You can give them a milk wash or an egg wash – but there's no need if you're in a hurry or simply don't have these!
Place the sausage rolls, join side down, onto a baking sheet or in whatever dish you've got – so they've got room to grow during cooking.
Place the baking tray in the middle of an oven that's been pre-heated to about 200°C/390°F or 180°C in a fan oven or toaster oven/mini oven.
It's as easy as that.  Once cooked, leave them to cool down for 5-10 minutes and eat them immediately, or store them in an airtight tin or container, where they'll keep fresh for 2-3 days if kept in the fridge.
Variations: If you've got a favourite chutney, simply spread a little of that onto the pastry before you add the sausages!  Caramelised onion chutney's good, as are some spicy chutneys, or maybe use up some festive chutney you bought in just for Christmas!
Freezing Sausage Rolls:
You might be wondering "can I use frozen pastry to make sausage rolls, cook them and then freeze them?"  The good news is you can!
You can freeze these sausage rolls by simply wrapping  them in freezer bags, or into a plastic container.  Defrost before eating, overnight in the fridge.  It's also good to reheat them in the microwave (if you don't mind the pastry getting a little soggy), or pop into the oven to warm for 10 minutes!
You can freeze sausage rolls raw, before you cook them, or you can cook the sausage rolls and then freeze them once cooked.