Cheats 4 Ingredients Turkey Curry in a Slow Cooker
|
When it comes to cheats, a slow cooker is in a league of its own – with just 3 ingredients you can whip up a turkey curry in a slow cooker – and if you add a cheats 4 ingredient, then you've really got a curry to brag about.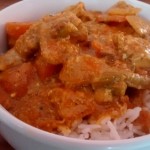 To make a basic easy turkey curry in a slow cooker, all you need is some turkey (breast or thighs), with the fat cut off and any bone removed. Raw turkey meat is what I've just used.

Next you'll need a tin of coconut milk, the one I had to hand was 400ml.
And the third ingredient for an easy turkey curry is some curry paste – I've used Patak's balti spice paste. Which one you use will depend on what you have available and which flavour sounds good to you. So long as it's a curry paste that's the most important part. A curry paste is all those ingredients you could've bought and slaved over, already done for you and sold in a jar. Pretty genius.  This was my first ever jar of curry paste, so I bought blind really as it is overwhelming at the shelf.
What I've done is bought the coconut milk and paste and had them ready in the cupboard until I could see cheap turkey on a deal – and it was part of Lidl's Half Price Weekend this weekend, so I just popped in and picked some up. The pack size is 375grams, but this turkey curry works for any amount of turkey pack you can get your hands on, from 375grams to 500grams.
Now, for the 4th ingredient in this 4 ingredient curry. Well, to be honest, I didn't go down this route this time, but the fourth ingredient would simply be some frozen mixed vegetables, or any mixed vegetables pack you can get from the supermarket.
Instead of frozen vegetables I had some carrots to use up – and some onions – so I used those instead and just added some frozen green beans. Frozen green beans are great because you can snap them easily with your fingers to the size you want them. I didn't want to add frozen vegetables to the slow cooker, so I boiled a kettle and just left the green beans in hot water in a jug for 10 minutes while I chopped up the carrots and onions.
So, I'd better crack on and give you the recipe:
375-500g turkey breast, or thighs, or chicken. Remove any fat/skin.
1 tin, 400ml, coconut milk
Half a jar of Patak's Balti Spice Paste (about 140 grams, or 5-6 heaped teaspoons)
400-500g of mixed frozen vegetables, or assorted vegetables you have to hand and need to use up, chopped into smallish pieces.
Method:
Place the frozen/warmed, or chopped, vegetables in the bottom of the slow cooker.  
Cut the turkey breast into small cubes and lay those on top – I don't like to have them touching the sides of the slow cooker, so they don't burn or dry out
Pour half of the coconut milk over the turkey and vegetables, then add the paste into the remainder of the coconut milk and mix in, scraping down any solid chunks as best as you can. Using the tin like this just saves washing up!
Pour the curry paste/coconut milk mix over the turkey and vegetables.
Turn the slow cooker on to high for one hour with the lid on.
Turn the slow cooker down to low after an hour and cook for about 4-5 hours.
Serve with rice, I like to microwave basmati rice in a microwave rice steamer.
Verdict: Being used to microwave meals for one I found this curry tastier than any packet or tin I'd ever eaten before.  It's probably the nicest slow cooker dinner I've had to date and look forward to making a ton of variations in the coming months!
Menu Cost: 375 grams chicken from Lidl Half Price weekend (£1.29), half a jar of Patak's balti spice paste £0.90, tin of coconut milk £0.50, carrots £0.15, green beans £0.10,  onions £0.20.
Total cost £3.14.  Serves 4 generous portions, or 6 smaller plates.