Atora Suet Recipes Book List of Contents
|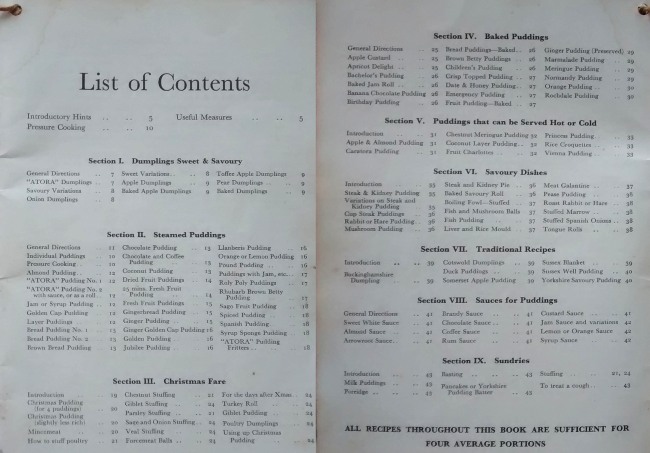 Split into nine sections, below is the List of Contents in the Atora Suet Recipes Book:
Section I Dumplings Sweet & Savoury
General Directions; "ATORA" Dumplings; Savoury Variations; Onion Dumplings; Sweet Variations; Apple Dumplings; Baked Apple Dumplings; Toffee Apple Dumplings; Pear Dumplings; Baked Dumplings.
Section II. Steamed Puddings
General Directions; Individual Puddings; Pressure Cooking' Almond Pudding' "ATORA" Pudding No 1; "ATORA" Pudding No 2 with sauce, or as a roll; Jame or Syrup Pudding; Golden Cup Pudding' Layer Puddings; Bread Pudding No 1;  Bread Pudding No 2; Brown Bread Pudding; Chocolate Pudding; Chocolate and Coffee Pudding; Coconut Pudding; Dried Fruit Puddings; Gingerbread Pudding; Ginger Pudding; Ginger Golden Cup Pudding; Golden Pudding; Jubilee Pudding; Llanberis Pudding; Orange or Lemon Pudding; Pound Pudding; Puddings with Jam etc; Roly Poly Puddings; Rhubarb Brown Betty Pudding; Sage Fruit Pudding; Spiced Pudding; Spanish Pudding; Syrup Sponge Pudding; "ATORA" Pudding Fritters.
Section III. Christmas Fare
Introduction; Christmas Pudding (for 4 puddings); Christmas Pudding (slightly less rich); Mincemeat; How to stuff poultry; Chestnut Stuffing; Giblet Stuffing; Parsley Stuffing; Sage and Onion Stuffing; Veal Stuffing; Forcemeat Balls; For the days after Xmas; Turkey Roll; Giblet Pudding; Poultry Dumplings; Using up Christmas Pudding.
Section IV. Baked Puddings
General Directions; Apple Custard; Apricot Delight; Bachelor's Pudding; Baked Jam Roll; Banana Chocolate Pudding; Birthday Pudding; Bread Puddings – Baked; Brown Betty Puddings; Children's Pudding; Crisp Topped Pudding; Date & Honey Pudding; Emergency Pudding; Fruit Pudding – Baked; Ginger Pudding (Preserved); Marmalade Pudding; Meringue Pudding; Normady Pudding; Orange Pudding; Rochdale Pudding.
Section V. Puddings that can be Served Hot or Cold
Introduction; Apple & Almond Pudding' Caratora Pudding; Chestnut Meringue Pudding; Coconut Layer Pudding; Fruit Charlottes; Princess Pudding; Rice Croquettes; Vienna Pudding.
Section VI. Savoury Dishes
Introduction; Steak & Kidney Pudding; Variations on Steak and Kidney Pudding; Cup Steak Puddings; Rabbit or Hare Pudding; Mushroom Pudding; Steak and Kidney Pie; Baked Savoury Roll; Boiling Fowl – Stuffed; Fish and Mushroom Balls; Fish Pudding; Liver and Rice Mould; Meat Gelatine; Pease Pudding; Roast Rabbit or Hare; Stuffed Marrow; Stuffed Spanish Onions; Tongue Rolls.
Section VII. Traditional Recipes
Introduction; Buckinghamshire Dumpling; Cotswold Dumplings; Duck Puddings; Somerset Apple Pudding; Sussex Blanket; Sussex Well Pudding; Yorkshire Savoury Pudding.
Section VIII. Sauces for Puddings
General Directions; Sweet White Sauce; Almond Sauce; Arrowroot Sauce; Brandy Sauce; Chocolate Sauce; Coffee Sauce; Rum Sauce; Custard Sauce; Jam Sauce and variations; Lemon or Orange Sauce; Syrup Sauce.
Section IX. Sundries
Introduction; Milk Puddings; Porridge; Basting; Pancakes or Yorkshire Pudding Batter; Stuffing; To treat a cough.
"All recipes throughout this book are sufficient for four average portions"
I can see all my favourite Suet recipes listed above – and some unexpected items.  I think the booklet has covered a good spectrum of other handy recipes to have, making this a more useful book than a typical modern recipe book written by modern food suppliers!
There are quite a few Suet recipes in the book that have piqued my interest!  There are definitely two recipes I will NEVER try though – the Giblet Stuffing and Giblet Pudding.  We used to give the giblets to the cat – outside so we didn't have to watch him eating them 🙂