Atora Vintage Recipe Book, Savoury Dishes, Section VI
|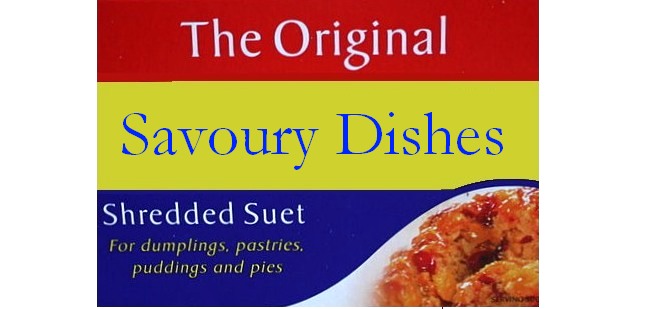 The passage below is taken from Section VI of the vintage Atora Recipe Book – to give a clue as to what's inside the book if you're pondering buying a copy.  I love picking up ancient cookery books and small books printed in the 1950s-1970s as they remind me of when I was growing up and the food we used to eat and the books we had on the shelf.
The recipes below are for Savoury Dishes and I've listed the ingredients, but not the method…. so you can either work out what to do with them or buy the book … or ask me on Facebook at a push.
The intention of this post is not to break copyright and copy out word for word from the book, but to give you a list of what's in the book and an outline …. the book is the official Atora Suet Recipe Book published by Hugon in the 1950s, the inventors of Atora suet and their special new process that ensured they could produce a product, with the skin and tissue removed, that would have a long shelf life without preservatives.
The recipes in the book are all to serve four people – and the recipes give the method if you're using self-raising flour, or plain flour.
Savoury Dishes
Probably the majority of men, when asked their favourite dish would reply "Steak and Kidney Pudding" – and certainly nothing could be more delicious, appetising and nutritious – particularly in cold weather.
We have therefore given our recommendations for the perfect Steak and Kidney Pudding – followed by suggestions for alternative fillings, which should prove almost as popular. In addition, you will find in this chapter recipes for a number of savoury dishes – all of which help to give variety to your meals and ensure economical catering.
Steak and Kidney Pudding
For the Pudding: 8 ozs flour (with plain flour use 1 teaspoon baking powder). 4 ozs "ATORA". Good pinch salt,. Water to mix.
For the Filling: ¾-1lb stewing steak. 2-3 lambs' kidneys or 4ozs ox kidney. Seasoning. Water or stock.
Seal the edges of the pastry well together. Cover with greased paper and cloth or just a cloth, dipped in boiling water and floured. Steam for 4 hours, and serve with a thickened gravy.
Variations on Steak and Kidney Pudding
For a richer Pudding. You can include about 8 bearded sauce oysters, and 2 ozs chopped mushrooms.
Onion and Steak. If desired a small quantity of chopped onion can be included in Steak and Kidney Pudding, otherwise use about 3 sliced onions and stewing steak, without kidney.
Minced Steak Pudding. Cooking time can be saved by half if you put the steak kidney and onion or other ingredients through a mincer. Fill the pudding as usual and cook for 2 hours.
Cup Steak Puddings. To save a little cooking time, the pudding can be made into four individual puddings in odd cups or small basins. Allow 3 hours steaming.
Rabbit or Hare Pudding. Use the meat from one small or half a large rabbit, add ½ teaspoon sage, 2 sliced onions, 2 sliced tomatoes and a few chopped mushrooms. If you prefer to use meat from parts of a hare, add sliced onions, one sliced apple, a tablespoon red wine to the water or stock and plenty of seasoning.
Mushroom Pudding. Make a pudding filled with mushrooms only to serve as a separate dish or with grilled bacon or ham.
Steak and Kidney Pie
1lb stewing steak. 3 sheep's kidneys or approximately 6 ozs ox kidney. 4-6 ozs mushrooms. Salt and pepper. About 1½ gills water or stock. Level tablespoon flour.
For the Pastry. 6ozs flour (with plain flour use ¾ teaspoon baking powder). 3 ozs "ATORA". Good pinch salt. Water to mix.
Brush with a little milk or beaten egg to give a good shine, and bake in the centre of a hot oven for 20 minutes – Mark 7 or 450°F, then lower the heat to moderate, Mark 4 or 400°F for a further 20-25 minutes.
Baked Savoury Roll
Throughout this book you will find recipes for Sweet Roly Poly and savoury rolls – see Traditional recipes and Christmas Section.  All these fillings can be put into the suet crust and baked – in addition here are further ideas for you to try.
Beef Steak and Kidney Roll. ½lb minced been steak, 1 or 2 minced kidneys and a finely chopped onion. Season well. Roll tightly. Bake for an hour 400°F.
Sausage and Apple Roll. Cover the pastry with about ¾lb sausage meat, 2 chopped apples and 2 chopped onions. Season well. Bake as before.
Other recipes in this section for Savoury Puddings, which I've not typed out yet include:
Boiling Fowl – Stuffed
Fish and Mushroom Balls
Fish Pudding
Liver and Rice Mould
Meat Galantine
Pease Pudding
Roast Rabbit or Hare
Stuffed Marrow
Stuffed Spanish Onions
Tongue Rolls
E&OE