Asda Chilli & Lime Beef Quarterpounders Review
|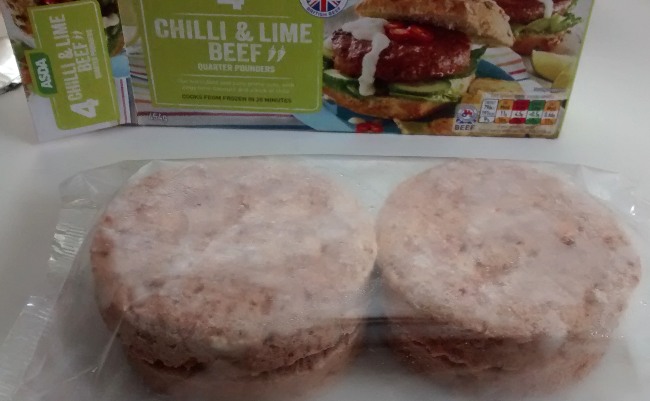 While in Asda, looking for some quarter pounder burgers, I randomly picked up a box of four Chilli & Lime Beef Quarterpounders.  I think the package design drew me in with it's splash of lime green.
I'm currently in an "eat a lot of burgers" phase, probably due to the current unexpected heatwave.
Inside the package the four quarter pounders are wrapped in a pack of four in cellophane.  I'll be eating just one at a time, so, once opened, I'll use a plastic clip to reseal the cellophane.
This pack of four quarter pounders is usually priced at £2.00, but they were on a Rollback price of £1.75, making them just 44 pence each!
How to Cook:
The cooking instructions say: For best results cook from frozen. If allowed to defrost, adjust the cooking times accordingly.
To Grill: Remove all packaging. Pre-heat the grill. Grill on a medium heat for 18-20 minutes, turning occasionally during cooking.
To Oven Cook: Pre-heat the oven to 200°C/400°F/Fan 180°C/Gas Mark 6. Place beef burgers on a baking tray in the centre of a pre-heated oven and cook for 25-27 minutes, turning occasionally.
To BBQ: Always wait for the flames to die down and the coals to turn white before cooking. Oven cook or grill as suggested above, then transfer immediately onto a barbecue and cook until browned. Turn frequently to give a chargrilled effect.
Microwave: Not suitable for microwave cooking.
Microwave Cooking Frozen Burgers:
I will completely ignore the last instruction, to be honest – but you probably guessed that. I fully intend to cook all of these burgers in the microwave. The cooking instructions are a guide – and I cook all burgers in the microwave.
Nutrition, Calories and all that …. :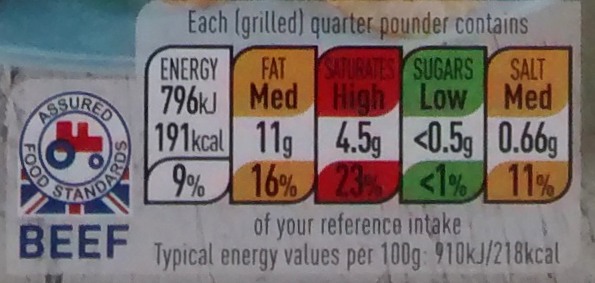 Ingredients: Beef (82%), Onions (1%), Fortified Wheat Flour, Potato Starch, Red Chillies, Salt, Dextrose, Lime Zest, Paprika, Tomato Powder, Yeast Extract, Paprika Extract, Parsley, Flavouring. There's a whole raft of other ingredients too, such as Garlic Oil, Lime Oil, Orange Oil, Pepper and Cayenne.
No artificial colours, flavours or hydrogenated fat. I don't care/mind, to be honest 🙂
Notice that tractor mark – they're supposed to be good aren't they.  I didn't look for the tractor, I buy based on what it is, how much it is – and how pretty the photo on the box looks 🙂 Don't we all!
Burger Weights & Calories
The whole pack is 454 grams, so each burger weighs ~114 grams. The nutritional information is provided "per 100g", which his always annoying as you have to work it out ….
100 grams of these burgers are 218 calories, so 114 grams would be ~250 calories per burger, but fat is lost during cooking, so the box tells us it's 191 calories on the front panel.
13 grams of fat per 100 grams of burger equates to ~15 grams of fat per burger, some will be lost during cooking.
0.75g of salt per 100 grams is about 0.85grams of salt per burger, some will leach out during cooking.
4 grams of carbohydrates per 100 grams means ~4.6 grams of carbohydrates per burger, again, some will be lost during cooking.
I only focus on one figure, to be honest, I'm just interested to know how many calories there are in one Asda Chilli Lime Quarter Pounder – and the answer is 250 calories, and actually only 191 calories after cooking – hey, that's practically a diet burger isn't it 🙂
My initial review of these quarter pounders, having got them home and read the box, is that they seem like a good buy.  I'm looking forward to eating these.  Unfortunately, when I looked them up online Asda appear to no longer be selling them!  It's possible I bought the last ever box, I hope not….
Update: they are appearing again on the Asda website, hurrah!
If I'd bought them for a BBQ I'd be disappointed that the instructions said they needed to be cooked first – but that's just the company protecting themselves against people undercooking them.  I'd quite willingly toss these onto a BBQ as I'd trust my own cooking/checking that they were 100% cooked through!  As it is, I don't intend to cook any of these on a BBQ because BBQs are a rare event in my life.
Actual Review: 
I've written this after I ate my first burger – and I can report back that they were tasty, moist, really lovely and I'd not hesitate to grab a box of these again, except they look like they might be discontinued, I'll have to keep an eye on that.
Update: I have checked again and they are listed again on the Asda grocery shop online.