Stretch Covers for Food
|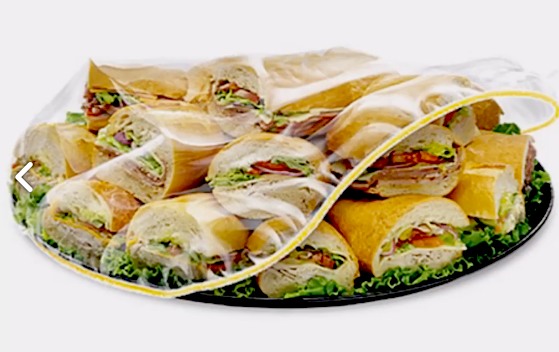 Launched in the last couple of weeks in the UK, you can now get stretch covers for food that are reusable, safe to use in the microwave, dishwasher safe and perfect for covering your leftovers after the party, or when you're laying out your table before the event!  Whether it's a bowl of grated cheddar in the fridge, or platters of bread rolls for the beach barbecue, this is on my wishlist!
What you buy is a pack containing a variety of sizes – all of which are neatly colour coded so you can easily grab the right size you want.  There are four sizes: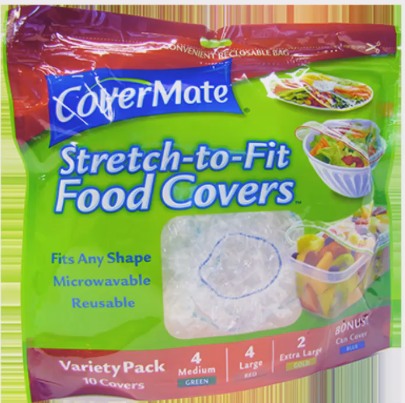 Extra large. Light green edging.
Large. 23cm – 35.5cm, which is dinner plate size, or serving dish sized. Red edging.
Medium. 10cm – 23cm, for small bowls and plates. Dark green edging.
Small. 5cm – 2cm, for covering open cans of food or small pots and sauce bowls. Blue edging.
The Covermate food covers let you cover, uncover and re-cover exposed food and opened cans in seconds, so you can keep food fresh if you're prepping for later, fits any shape of dish or bowl due to the rubber band (Flexband © ) edging and they're something that'll last you a long, long time as they're easy to use and reuse as well as being microwave safe and dishwasher safe.
Microwavable
Microwave safe means you can use them as microwave oven covers to cover food that you're heating up in the microwave, without needing a separate microwave cover – cover your dish and pop it in the fridge, once you want to reheat it you simply put it in the microwave – no fuss.  There are also some tiny corner vents that allow steam to escape when used in a microwave, so you needn't worry on that score either!
This is kitchen cheats heaven and at ~£2, very affordable.
Better Than Cling Film or Foil
These stretch covers are a lot easier to use and better looking than cling film or foil on a party table you're laying up – and there's no fiddly "finding the edge" like you get with cling film – and zero waste as they're reusable.  They're also non-PVC, so PVC and BPA free.
The trouble with cling film is you're often wrestling with it, trying to cut the right length off, then, when you open the dish again the cling film never sticks again – and if it's a barbecue or salad or party situation you might need to dash for the cling film again.  As for foil, I quite often find I'll crush it down the sides of a dish and then it'll keep shifting about – these problems are banished!
Definitely a kitchen keeper!  Make sure you're telling your friends about them – and not the other way round!
Where Can You Buy The Covermate Food Covers?
Waitrose, Ocado and Lakeland were the first shops to sell these, with branches of WholeFoods Market and Tree of Life also stocking them.  If you want these in your life right away though, you can buy online at Amazon UK with a variety of pack sizes to choose from.   Perfect for your kitchen, or as a Xmas stocking filler or Welcome to your New Home gift!