Mini Cheese & Tomato Tartlet for One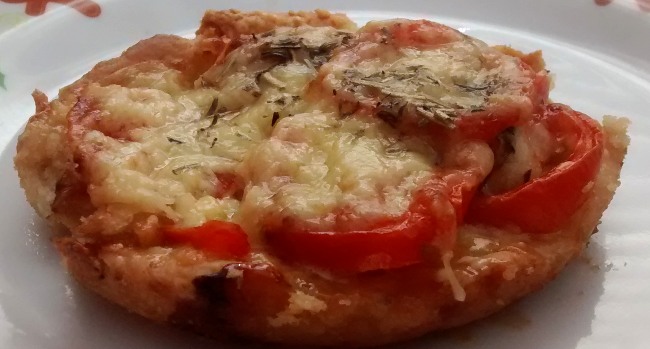 This mini cheese & tomato tartlet recipe makes a tiny tartlet that serves one person a snack.  I just fancied something a little savoury, so quickly made a simple oil and flour pastry – I made up just a half quantity of that, then topped it with cheese, tomato and a sprinkling of oregano before baking.
The tart above is about 3-4″ wide.  Apologies for the photo, this wasn't the best looking dish I've cooked this month, I was in a bit of a hurry to scoff it to be honest!
Pastry Ingredients: 
1 tablespoon plain flour
1 tablespoon self raising flour
3 teaspoons oil
3 teaspoons icy water
pinch of salt
Make the Pastry:  Simple Oil and Flour Pastry.
Filling Ingredients: 
2 Cherry Tomatoes
2 Tablespoons of grated cheese
A sprinkling of oregano
Method: 
First make and bake the pastry case.

Once the pastry case has cooled (I was too impatient for that bit today), add the fillings and bake at 180°C for 15 minutes.

Leave the tartlet to cool in the dish for 10 minutes or so. Serve.
This really is just a bite, a snack, a nibble…..
Menu Cost – 10p:
The pastry will cost about 2-3p to make, the filling would be 6-7p.  So this is a 10p tart!  It might even come in cheaper and is a great way to get a tasty savoury snack for one.