Hot Breakfast Ideas: Scrambled Eggs on Toasted Muffins
|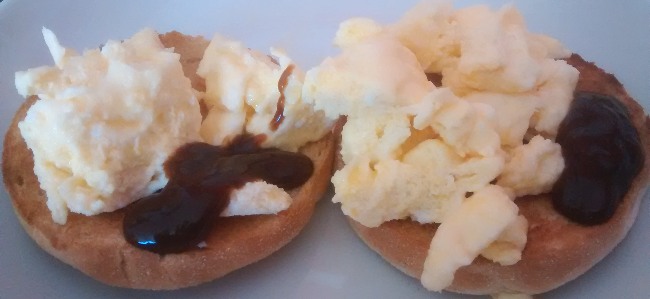 If you want a quick, hot breakfast idea, then scrambled eggs on toasted muffins can be made in under 5 minutes.  This simple, but filling breakfast contains protein too, which keeps you feeling fuller for longer, so reduces snacking (they say …. !!)
Ingredients:
2 eggs
1 English muffin (bread muffin)
1 teaspoon of butter
Brown sauce or ketchup, optional
Method:
Slice the bread muffin in half and toast it in the toaster
Beat the two eggs in a microwave safe bowl and microwave on full power for about 1½-2 minutes – watch it until the eggs are binding and starting to "grow" up the dish.
Once the eggs are starting to form, take a fork and scrape round the edges, then mash the edges back into the middle of the eggs, scrambling them.
TIP: It's important to keep mixing the edges into the centre/bottom liquid parts, so the microwave scrambled eggs remain moist.  If you simply turn the microwave on and microwave the eggs for 2-3 minutes you'd just have a dry, inedible lump! Little and often is the key!
Return the dish to the microwave and continue to microwave, removing the dish and scrambling the eggs up every time they are "growing", until all the liquid's used up.
Using a fork, fork the butter through the scrambled eggs.
Top the muffin with the eggs – and splash some brown sauce or ketchup on top!
There's no need to butter the muffins if you don't want to, or are counting the calories, as the scrambled egg should be moist enough.
Frugal Breakfast or Lunch Idea:
Although a bit pricier than slices of bread, muffins can still make a frugal breakfast or lunch.  Muffins can be frozen too, which is great if you spot some at a reduced price – what I do is slice them before freezing as this makes them ready to use and it's the easiest/best time to try to slice them in half. Muffins, instead of toast, makes the breakfast or lunch seem more luxurious and special!
Menu Cost:
Two eggs and one muffin, with the butter and squirt of brown sauce is still under £0.20.
Update: Another day and I've just had 3 scrambled eggs on toast (2 pieces), at a cost of £0.24 (plus margarine and brown sauce still brings it in at under 26p)
cookscrambledeggs