Ginger Pepsi Max Review
|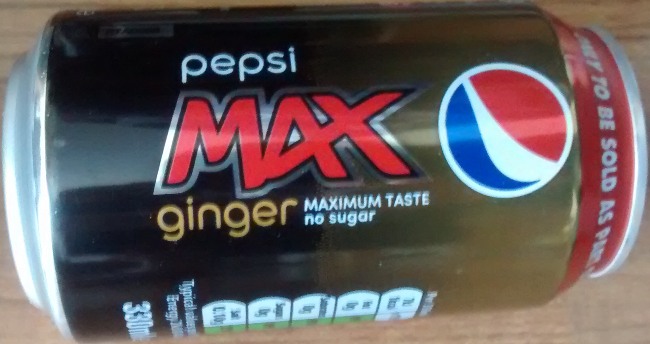 I'm a Pepsi Max fan – no other drink has come close for me.  Pepsi Max is sugar free, so pretty much a zero calorie soft drink.  In the summer I get through a lot of these.  I'm also a HUGE fan of Ginger Beer – although I don't tend to buy this so often these days as it's often "not the same as how I remembered".  Mum used to grow a ginger plant when I was growing up, so we always had plenty of freshly made Ginger Beer and Ginger Wine to drink (except the few that exploded in the garage one year!).
When Pepsi Max first introduced the Cherry flavour I tried those … and was disappointed, so never bought them again.  But the other week I spotted these new Ginger Pepsi Max cans and grabbed a pack of 8 to try, hoping that this would be my future drink of choice as it appeared to offer a great solution combining my favourite two drinks.
Review: 
You can taste the ginger, but this isn't a product I'll be buying again from choice.  If there's Pepsi Max and Ginger Pepsi Max then I'd definitely stick with the original – and I'd only buy the Ginger Pepsi Max if it were the only drink available to me at that moment and I had no access to the original version.
You can taste the ginger, but, for me, it really didn't deliver a taste punch at all.  It was neither one thing, nor the other – and, when viewed as a "fizzy ginger drink" in its own right then any can of Ginger Beer would out-taste it.
Sorry Pepsi, love your Pepsi Max, but this didn't hit the spot.
I'd put my top three drinks in the following order:
Pepsi Max original
Ginger Beer
Ginger Pepsi Max