How to Cook Baked Beans in the Microwave
|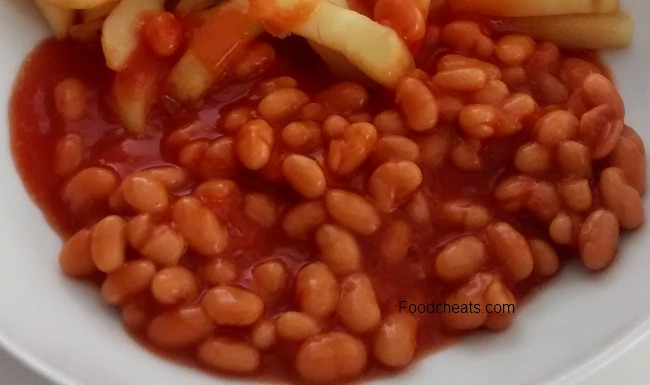 Want to know the easiest way to cook baked beans in the microwave?
Rather than using a whole dish, a simple microwave safe mug is the way I usually do it – I have a variety of mugs in different sizes and will typically be microwaving 1/3rd or ½ a tin at a time.  If I wanted to cook a whole tin of beans I'd use a small microwave safe bowl or Pyrex jug.
Tip: If you're cooking just half a tin of beans, put the rest of the tin into a lidded pot in the fridge and they'll keep for 3-4 days, or you can freeze them.  Beans should be removed from the tin once the tin has been opened.
I do tend to favour dishes that have a handle as it gives me something easy to grab, as I do find some bowls a little tricky as I'm clumsy.  🙂  For this reason, as I am usually cooking small portions, for one person, mugs are the handiest microwave safe cooking dish!  They're easy to find, cheap to buy – and easy to wash up.
How to Cook Baked Beans in the Microwave: 
Tip the beans into a microwave safe mug, jug or bowl.  You do not need to cover the mug or dish.
Microwave on full power (800 watts) for 1 minute. Stir, microwave the beans for 30 seconds, stir, microwave for a further 30 seconds.

After 2 minutes half a mug of baked beans would be steaming hot – if you're cooking larger quantities then you will need to cook them for a further 1 minute or so.
Serve!
This is the best way to cook baked beans if you want to make beans on toast, baked potato with beans, or serve them as a side portion with a cooked breakfast.  There really is no point using a saucepan and hob to cook beans, which takes longer and gives you a larger item to wash up!
Beans served on top of chips is a filling meal too, but why pay chip shop prices for a small portion of beans when you can simply microwave your own beans at home while you're unwrapping your portion of chips!  75p is a typical price for a portion of baked beans at a chip shop, compared to 25p for a whole tin of baked beans at home!
Tips: 
Immediately rinse out the mug, or put it in soak and the washing up will just be a quick wipe!
If you like your baked beans to have a thick sauce, then microwave them for longer and the sauce thickens up.
Curried Baked Beans:
Stir in ~¼ teaspoon of curry powder (or curry paste) and a few raisins before you cook the beans and you can make your own curried baked beans!  This is much cheaper than buying them ready made!