Christmas Pudding Leftovers
|
I don't know about you, but by the time it gets to eating the Christmas Pudding, everybody's full up!  Well, we taste a token piece, while complaining bitterly that we couldn't possibly manage anything more!
But then the Christmas Pudding's put away and it's a shame to waste it, but it really doesn't "fit" well with the other Christmas food we have to eat over the festive period.  So, what can you do with Christmas Pudding leftovers that's easy and tasty …. and doesn't look like it's Christmas Pudding leftovers?
Here's a recipe from my mother's collection, it's quite faded now so I'd like to write it down for posterity – and share it with you all.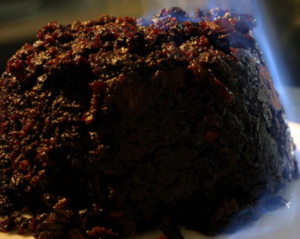 300 grams of Self Raising flour (11oz, or 2.25 cups)
110 grams of soft butter (4oz, 1 stick)
120 grams of sugar (4oz, 0.5 cups)
1 teaspoon of baking powder
3 medium eggs
Christmas pudding leftovers, 1-2 cups or half a pint is good, but whatever you have
1 cup of cold tea, made up.
Method
Mix all the ingredients together in a large bowl, making sure the Christmas Pudding leftovers are broken up into tiny pieces (unless you specifically want lumps of it!).
Grease a 2lb loaf tin, or anything of similar size you have to hand (I like to put some in a loaf tin and make a couple of "cakes" in individual muffin cases.
Pre-heat the oven to 180°C (350°F, Gas mark 4, a moderate oven) for 40 minutes.  Remove it from the oven and leave to cool for 10 minutes before removing it from the tin and placing on a wire rack to cool completely.
Of course, it's obligatory to have a quick taste, while it's still hot … which is why I like to make a couple in muffin trays – these take only 30-35 minutes to bake.
It's even worth looking around for reduced Christmas puddings in the week after Christmas, just to make this great tasty loaf.  Ideal on a buffet table, or simply eaten with a cup of coffee!
Enjoy!
Image under CC BY-SA 2.0 license Matito