Christmas Dinner for One
|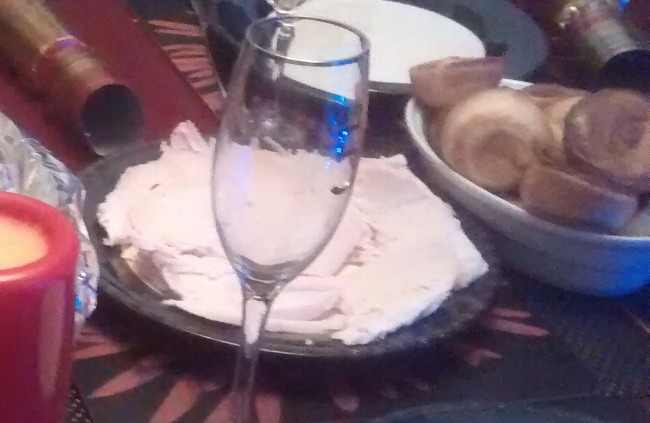 This year I was in a position where I was expecting to cook Christmas dinner for one – but at the last minute I was invited out for Christmas dinner. However, with a lifetime of Christmas dinners for one looming ahead of me I have had chance to really think about what I'd cook. While I love eating and love eating Christmas food, I really don't like the process of shopping for food, preparing food, cooking food, clearing up afterwards!
Firstly, just because you're on your own, there's no reason to completely not bother. You're worth it! It's Christmas, so you should at least think a little about how you can make a Cheats Christmas, easily, for yourself.
I'm afraid I'm not one to try new things at such a traditional time.  For some there's the opportunity of indulging themselves in new foods and experiences; for me, I prefer the traditional Christmas dinner, with my own choices of what's on the plate and how much of it!
The main issue with cooking for one is thinking about the minimum size of pack you can reasonably buy to achieve the small volume you'll be needing/using. Beyond that it's a question of what facilities you've got available. While you might have a full kitchen available, many might just have a microwave, or even a slow cooker! But something is achievable, no matter what your situation.
There are several routes you can take, which are explored below. The main thing to do is to work out what for YOU means Christmas dinner and compromise on those aspects that are less important to you. This can be the difference between having a Christmas dinner, or going without …. all for the sake of a little bit of compromise.
So make a list of what's your version of a Christmas dinner and see how you can whisk up a hot plate of seasonal goodness for yourself!
Turkey
Well, there's no point in buying and cooking a whole turkey. Darned big things, taking up too much space, taking ages to cook. No. But, you do have a variety of options, depending on what your master game will be.
A turkey crown is just the breast meat, usually with the bone removed. This is a great solution, it usually comes in its own foil tray too, simply read the instructions (which usually say stick it in the oven for 1-1.5 hours) and let it cook. On the downside, there is a lot of meat in a turkey crown, so you could consider either buying just a turkey breast, or leg, or even ready-cooked and cold slices from a good deli counter. If you do buy cold slices, then you can microwave turkey slices for 2-3 minutes before serving and covering in hot gravy. mmmm
My choice: it'd be either a turkey breast, cooked in foil, or ready-cooked turkey pieces which I can microwave or reheat in the mini oven.
Pigs in Blankets
We didn't have pigs in blankets at home when I was growing up. Indeed, it was many years before I managed to persuade the rest of the family to allow me to slide some cocktail sausages into the oven.  I'm also not a lover of bacon, so sausages wrapped in bacon's never appealed.
If you're not that bothered about pigs in blankets then you can either just cook up some regular cocktail sausages in the oven (cook a whole pack as you've then got some nibble/buffet food to munch through in the coming days), or buy a pack of ready-cooked cocktail sausages and just nuke them for 1 minute right before you serve them (maybe while you're microwaving the turkey slices if you went for that option!). I bet the stuffing will fit in the microwave too.
My choice: Buy the ready cooked cocktail sausages from the supermarket.  Microwave them or reheat in the mini oven.
Roast potatoes/Roast parsnips
You can buy these frozen, then simply tip out how many you need on the day and stick those in the oven. Yes you can prepare and cook them from scratch, but if you're cooking for one you're probably looking for some shortcuts and cheats. If the roast potatoes and roast parsnips are the best part of the meal in your opinion, then you'll probably be cooking up a dozen of each…. frozen gives you the option of just cooking 1-2 of each.
You can microwave frozen roast potatoes and parsnips, but the issue here is that they won't be crispy – and you really need to find/buy the brownest ones, for aesthetic reasons. You can't usually see inside the packets, so you either have to work your way through them all over the year to find the best/brown ones… or take a chance and cover them in gravy on the plate 🙂
My choice: I might go for frozen parsnips and roast potatoes, just to reduce the cooking time.  I'd microwave them to cook them further, before finishing them off in the mini oven.
Vegetables
Of course you can buy, chop, prepare, cook all the veg you want, or, simply spend some time (even online) looking through the mixed steam bags of veg that are available. What you don't want to do is to end up with veg overload. You want to be cooking a meal that's a Christmas Dinner for one once…. not every day for the next month!
You might be pleasantly surprised at the vegetable combinations you can pick up these days. For me I'd be looking for cauliflower, broccoli, carrots and peas – although I do dislike frozen carrots as they do cook up like bullets. Brussels sprouts – for me these are compulsory 🙂
Of course, if veg is something you're particular about – then the way to make your veg is to steam it, all together. Simply find a shop where you're not too embarrassed about buying 6 brussels sprouts, one carrot and half a stalk of broccoli – of course, trying to buy a few cauliflower florets is impossible unless you look in the "veg prepared and in a bag" section.
My choice: I'd use frozen vegetables and steam them in the microwave steamer.  I'll have brussels sprouts, carrots, cauliflower and broccoli.
Stuffing
Depending how you like your stuffing, this can be easy to make. If you like your stuffing moist, then you can microwave a stuffing packet mix by tipping some of the stuffing into a jug, with a knob of butter, then mixing with boiling water. Stir it and leave it to soak up the water – 10 minutes later you might decide to add a little more water. To serve, simply microwave it for 2-3 minutes. However, if you're somebody who likes crispy stuffing, then you need to tip it into a small bowl or muffin tray or foil and into the oven for 20-30 minutes (depending on the shelf you've space on).
You can buy frozen stuffing balls.  Personally they don't appeal, compared
My choice: While I'm prepared to eat stuffing just microwaved through the year, for Christmas dinner I'll finish it off in the mini oven to get a crispy outer skin.  I'll also look out for a special festive flavour, such as Chestnut Stuffing, or Chestnut and Cranberry Stuffing – I'll see what's out there!  I LOVE stuffing.
Gravy
Well, this one's pretty easy and a no brainer. You can either easily buy a pot of ready made gravy, or just use some good gravy granules mixed with boiling water at the last minute (I usually save/use the boiling water from having steamed vegetables).
… and More!!
I was brought up in a pretty traditional home, with the same food every year, but I am aware that other people do have more food than the above! Yes, more. And accompaniments.
Again, for the effort, cost or volume, you might just decide to give any one part a miss. Would you want to buy a whole jar of cranberry sauce? Probably not. Or buy/make a whole bread sauce for one? Nah.
Chestnuts in the brussels sprouts is something I always fancied, but others weren't keen, so we didn't have those. You can buy a vacuum pack of chestnuts for this purpose – which can be nuked 🙂  These are on my menu, I've already got a box, which I'll now save for next year!
My choice: Yes, chestnuts will be served with the brussels sprouts.  Vacuum packed, they can be microwaved then dropped in with the brussels.  I'll only need 3 realistically.
Yorkshire puddings? For me, a Yorkshire pudding is compulsory at Xmas dinner. However, you then have to balance out cooking it, or cheating. You can buy ready-made frozen Yorkshire puddings, which are passable. The beauty of these is that they take just 3-4 minutes in a hot oven – and, I can confirm, it is possible to microwave a frozen Yorkshire pudding (or two) – it takes just 30 seconds or so, keep your eye on them.  I could make a small Yorkshire pudding on the day, but it's not worth the extra time, effort and clearing up.
My choice: I'll just buy frozen I think.  I'll slide them into the mini oven, they only take 3-4 minutes in there!
Mashed potatoes – I used to like having some mashed potato with my Christmas dinner; it had to be dropped many years though as I was told "we've enough food already". The quickest way to make this would be to use a steamer to steam up a couple of potatoes (or a microwave), then simply scoop them out and mash them. Potatoes take about 12 minutes to steam to the point where they are ready for mashing – and you can even make it the day before then microwave it at the last minute. Again, you can buy frozen mash, or even really cheat and use instant mash!
My choice: I'll go down the steamed potatoes route.  I'll probably steam the potatoes the night before and mash them, just microwaving them at the last minute on the day.  I really only need a spoonful.
Nut Roast
"Whoa, where did that come from?" you might wonder. No, I'm not vegetarian, but both my siblings were, so we had to cater for a vegetarian.  My younger sister found a fabulous recipe for a nut roast that was absolutely mind boggling.  It was from the Cranks and called a Brazil Nut & Cashew Nut Roast with a Red Wine sauce.  Over the years the sauce was dropped (way too much effort).  However, every year, without fail, my sister produced this huge nut roast – and everybody loved it.  However, for one, that's not practical if you're idle like me.  So I asked her which shop nut roast she felt was closest to the Cranks recipe she makes and she told me there's a great Holland & Barrett Nut Roast.  So I'd get one just to see.
My choice: I'll definitely get a pack of the Holland & Barrett Nut Roast in the cupboard.  I might not make/eat it on the day, but I'll feel good about having the option!
So there we have it. Whether you're using a full/proper oven, or just a microwave, it's possible to get a half decent Xmas dinner for one plucked out of nowhere, with the minimum of washing up, effort – and, more importantly, with the minimum of "leftovers" that would take you a month to chomp through.
Next year I expect I'll be tucking into this, so will publish the timings if that happens!