Christchurch Food Festival 2016
|
Food cheats today will involve buying food that's already made and prepared!  Visiting Christchurch Food Festival, which is a 2-day scoff-fest of the highest order.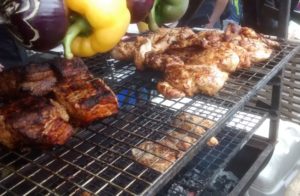 Wall to wall cheeses, olives, hot food, Thai, Chinese, fresh veggies, strawberry tarts, pizza, specialist cheeses … I may be some time!
Lots of flavoured oils, spices/herbs, mayonnaise, chutneys.  Pots of strawberries served with meringues, marshmallows and cream in various guises.  Even the Ship Inn's got its own stall outside its premises, selling food/drinks (although 3 kofte meatballs looked a tad on the "mean/tight" side imho! )
Whole suckling pigs, burgers as far as the eye can see.  Drinks, pubs, tastings – there's even an inflatable pub (won't go inside, but would like to see it so I know I've been round every part of the event).
Mmm the food tastings – love that bit!
It's good weather for it too!