Aldi Bag for Life, You Take the Biscuit
|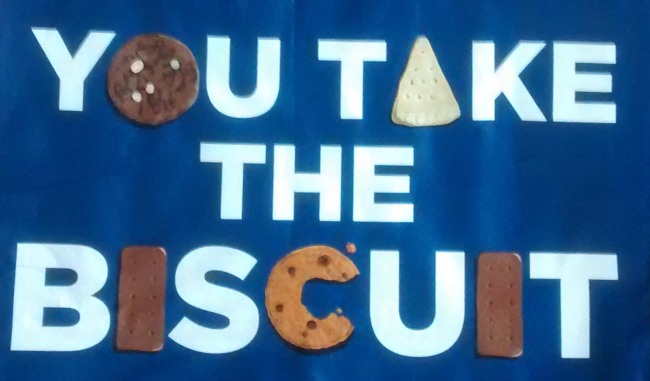 Another Aldi Bag for Life presented its opportunity to be purchased at the till today!  A glorious blue bag with the slogan "You Take the Biscuit" emblazoned across the front, using images of biscuits to replace some of the lettering.
I'm a sucker for these. I know I need to wean myself off them soon – I buy every new Aldi Bag for Life I spot and they're getting better looking.
I wonder if they'll have a Xmas Bag for Life …. if they do, I'll get one of those 🙂
These bags are really good value, at just 40p each – and they're so handy for sorting out stuff around the home, or for taking out in case I buy something while out!   I've now got yellow, brown, sage, light blue and this dark blue version …. I've no idea how often they print a new design, it seems like monthly!
I guess, as a hobby, collecting Aldi Bags for Life isn't expensive – and can be justified as they do have 1000 different uses around the house, car and in life in general!
I even add "Bag for Life" to my shopping lists, so I'm reminded to cast my eye under the counter at the till, perchance a new design 🙂