Mint, Red Pepper & Cucumber Pasta Salad
|
This dish was something I put together when I opened the fridge and realised I had a 1/4 of a cucumber that needed using up and I'd previously frozen red peppers that I'd not started to use, so I thought I'd make a slightly different pasta salad today – and my mint, red pepper and cucumber pasta salad was born.
Everything was "done by eye", so there's flexibility in quantities!
I happened to use large shell pasta as that was the packet that was open.  I'll use what's open rather than open a different packet – pasta is "all the same" thing, just different shapes, so if an open packet works, then that's the one I'll use!
Serving Size: This makes a generous pasta salad for one person, or a side salad portion as part of a buffet salad for 2-4 people, depending how many other choices they have.  The weight of the finished pasta salad is 400-450 grams.
Ingredients:
70 grams dry pasta, whatever shape you've got or like
1/4 of a cucumber, peeled, de-seeded and chopped into small pieces (although leaving the skin on the cucumber makes for a splash of colour if you want it to look more attractive)
1/4 red pepper, it'd been frozen so I just "snapped" the strips into smaller pieces
4 tablespoons of salad cream – mayo is just as good if that's what you use.
1 teaspoon dried mint
Method:
Cook the pasta in your usual/preferred way. Drain it and cool it with cold water.
Mix the pasta with the salad cream (or mayo)
As my red peppers were frozen, I put them in a bowl of warm water for a few minutes to thaw, then rinsed them in cold water.  Frozen red peppers used in a pasta salad still retain some of their original crunch.
Add in the cucumber, red peppers, mint to the pasta.
Stir it all round, making sure it's well mixed
Place in a lidded container in the fridge to enable the flavours to combine and the pasta to chill – you can eat it straight away, but it does taste a bit nicer if it's chilled and had time to 'marinate' a little.
I should use mint more often in pasta salads!  I often make a 3 Bean & Mint Salad, but always forget how great mint tastes with pasta.
Serving Ideas: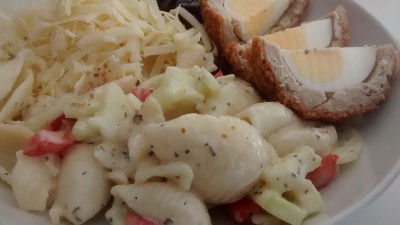 I served this pasta salad with a scotch egg  – I'd made a couple as the weather's been looking good this week, so I wanted some salad type items to snack on. I also had some grated cheese and a heaped teaspoon of Branston pickle, just because that's the pickle I had open in the fridge already.
This simple and easy pasta salad would be great served as a side dish if you're having a BBQ, or just a cold platter lunch!  It would also be a great layer in a Pasta Layered Salad mix.
How Long Can You Store Pasta Salad?
In a covered container in the fridge, this pasta salad will be fine for 3-4 days.  There's nothing in it that's 'dangerous', but it might start to dry out after that time and you might not fancy the look of it any more.  It'd still be safe to eat for ages.
Can You Freeze Pasta Salad?
No.  This wouldn't freeze at all.
Menu Cost:
This is a cheap dish, I'd bought the cucumber on a Lidl Offer (£0.29), so £0.07 for the cucumber; the red peppers are £0.29 at Lidl at the moment and when I bought this one, so £0.07 for the red pepper; pasta is pennies; salad cream is just a few pence.  This whole pasta salad probably cost £0.30.
Including the cost of my grated cheese and scotch egg, this was a meal for under £0.75.