Easy Plain Chow Mein Recipe
|
Chow mein is a great easy food to make on the fly.  As a side dish or your main meal, you can use a plain chow mein recipe to make it yourself much more cheaply, and quicker, than from a takeaway.   You can halve your takeaway bill if you prepare the side dishes yourself.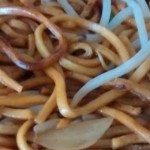 So what's in plain chow mein?  I like to keep things simple, without complex or new ingredients that I don't have – and there's not many ingredients in a plain chow mein at all.
Ingredients:
Plain noodles
Soy sauce
Chopped onions (regular or spring onions, finely sliced)
Beansprouts (optional as they're not something most people have hanging around in the cupboard).
A little fat for frying
Method:
To make your plain chow mein just put a little fat or oil into a frying pan, with some soy sauce – mix these together and get the oil hot, then add in some chopped onions (regular onions or spring onions, finely sliced).
Cook the onions for 2-3 minutes until they're translucent. Then add in the cooked noodles and some beansprouts. Most of the dish is the noodles, with beansprouts just providing a little variation.  With the spring onions, if you hold back the green parts, then add these in during the last minute or so.
If you've got a wok, that's great as you can get a greater surface area – but if not, just use the largest frying pan you've got. Now you need to keep the pan hot and keep turning and moving the chow mein around the pan. As you're doing this it'll all start to brown off and cook…. once it looks right, serve!
So, in the spirit of food cheats, that's it.  A nice and simple, easy, plain chow mein recipe served in minutes and with just 3 ingredients, or 4 ingredients if you want beansprouts!
Serving Suggestion:
This plain chow mein recipe is great on its own, or with a sauce – maybe a curry sauce.  As a full meal I like to serve plain chow mein alongside sweet & sour chicken and egg fried rice.  It can be a whole meal if you want to keep it simple, or just a side dish if you're putting in the effort to produce more variety on the plate.